Halloween potato prints with pumpkins, skulls or bats are a fun (and slightly spooky) are a great halloween arts and crafts for kids.
Updated August 2022
Even if Halloween might be a little different this year, we think you'll love this fun, easy art activity based on an old favorite. These Halloween potato prints for kids are perfect for adding to buntings, signs, or even DIY trick-or-treating bags! And you probably have all the materials you need already.
We make potato prints all year long, but there is something extra fun about carving a teeny pumpkin or skull into a potato and using it to stamp just about anything. For Halloween, orange, yellow, and white look great on black paper. And don't forget the glitter!
Some spooky prints you can try are a pumpkin or jack-o'-lantern, a skull, a bat, a ghost, an owl, or even the word BOO!
Halloween Potato Prints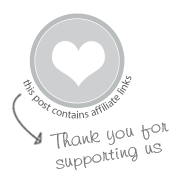 MATERIALS
Sharp knife
Potatoes
Paint (tempera or water-based printing ink)
Plate or small bowl
Heavy paper or poster board (or whatever you want to decorate)
Glitter (optional)
INSTRUCTIONS

Prepare the potatoes

Adults can prepare the potato stamps by slicing a potato in half and carving an image into the flat surface with a knife. Alternatively, press metal cookie cutters approximately 1/4″-1/2″ into one side of a potato to create stamp.

Prepare the paint

Pour a thin layer of paint onto the plate or bowl.


Stamp away!

Press the potato stamp first in the paint, then firmly onto the paper. Lift the potato stamp to reveal the image. If you have a paint roller, you can roll it in paint and lightly coat the potato stamp.

Add glitter and repeat!

Sprinkle glitter over the wet paint if desired, and continue to print with different stamps and colors.
We love the way the glitter looks on these pumpkins and skulls!
If you have some potatoes in the pantry, give these easy Halloween potato prints a try, and don't forget to tag us on Instagram #theartfulparent.
More Halloween Arts and Crafts Ideas
Autumn Arts & Crafts Ideas & Supplies
Download our FREE printable idea list of 31 Halloween activities for kids & families! Or just check out the blog post with the links. So many fun ideas for Halloween!
And be sure to check out our FALL family fun list in our Amazon store! It includes supplies for fall arts & crafts, autumn toys, Halloween ideas, and picture books about autumn.
PLUS: We're offering 50% OFF and MORE on our Kids Art Spot Halloween workshops, Fall workshops and bundles. (Sale ends October 31, 2021 at 11:59 pm EST)
Pin It For Later