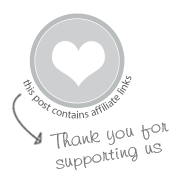 Today I'm interviewing my friend Jeanette Nyberg from Craftwhack about children's creativity, drawing games for kids, and her brand new kids' art book Tangle Art & Drawing Games for Kids (I shared some of the fun activities we did from it in my post yesterday).
Heads Up :: I'm giving away five copies of her new book at the end of this post!
Jeanette is an artist, mother, author and, I suspect, head silliness officer of her Chicago household. I think it's a good combination. Plus she claims to be better at baking desserts than getting dinner on the table, which is totally me, too.
Okay, here goes…
Encourage Children's Creativity with Drawing Games and Silliness
JEAN :: What are your favorite ways to encourage children's creativity?
JEANETTE :: I think there are so many ways to encourage children's creativity, it's hard to narrow it down to just a few. Kids can learn to be creative in so many ways, through so many means, and we know that does nothing but benefit them their whole lives.
With that said, I love leaving mystery art materials out in plain site for my kids because it always works to lure them over to investigate.
Another way we foster creativity is to try to show them how to be present in the everyday—for instance, we'll look around and point out things we see and discuss them. I'm trying so hard as an adult to be more present and mindful, and I think practicing this with kids can help enforce the concept to them.
We're also always encouraging silliness in our household—in the form of impromptu made-up songs and dance parties. Silliness breeds creativity.
JEAN :: What do you like about drawing games for kids?
JEANETTE :: Drawing games are my favorite way to get kids moving a pencil across a piece of paper in a totally uninhibited, playful way. Kids start to become self-conscious about their 'art skills' fairly early on, and it makes me crazy. I don't want kids to judge themselves based on what they hear others say about art. I guess this comes from me being so hard on myself as a kid and always comparing my drawing skills to others.
I think through art games, kids can learn that drawing doesn't have to be something you are 'good' or 'bad' at, but instead can be an enjoyable creative activity for anyone.
JEAN :: How would you like to see children use your new kids' art book?
JEANETTE :: Ideally, I want kids to pull this out whenever they have a few moments alone in their rooms. I want them to pull it out when they have a friend over to play some of the 'games with friends' from chapter 2, I want them to pull it out to use with their parents or caregivers, because adults need to be doing some drawing, too. I want them to basically eat and breathe the book and never let it out of their sight. Maybe even sleep with it under their pillow and pet it every once in a while. Oh. Is this starting to get weird?
JEAN :: Just a tad, Jeanette. But it's okay. We expect a bit of weird from you. 🙂
Okay friends. Make sure to check out Jeanette's blog, Craftwhack. Here are a few of my favorite posts of hers that you might like, too ::
I recommend you pick up a copy of Jeanette's new book, Tangle Art & Drawing Games for Kids, for your kids. It's full of fun ideas and creative activities that you they can do on their own, with friends, or with the whole family. Definitely a good one!
And if you want a chance to win one of five copies for yourself or to give as a gift, enter the giveaway below…
Kids Art Book Giveaway 
For a chance to win one of five copies of Tangle Art & Drawing Games for Kids by Jeanette Nyberg, simple leave a comment to this blog post by Saturday, April 9th at 11:59pm EST and then tell the rafflecopter widget that you're entering the giveaway. The winners will be chosen randomly and announced here on Sunday. Giveaway open to readers in the United States who are over the age of 18. Good luck!
Pin It for Later