Here are our favorite preschool Mother's Day crafts. All are simple and fun for young children to make and make lovely gifts.
Updated April 2023
Since Mother's Day is coming up soon, we thought we'd put together some ideas for Mother's Day gifts younger kids can make for mothers, grandmothers, aunts, and other mother figures in their lives.
These craft ideas aren't too complicated for kids to make but also look lovely when displayed or gifted for Mom.
Preschool Mother's Day Crafts
1. Gift the gift of art!
Take a process art activity and turn it into a gift for Mom! Want to go a little fancier? How about a painted canvas? Or glue art on canvas? The dollar store often has small canvases that are perfect for these projects.
2. Decorate a set of plain white napkins with glue batik.
We love using a simple glue batik technique to dye fabric. Make Mom a new set of napkins that she'll be proud to show off at dinner parties!
Use Sharpie markers to write special words and wishes for the recipient on small rocks. Start with melted crayon rocks or try a fun rock painting kit. These will make Mom feel loved and appreciated.
Treat Mom like a Queen for the day, complete with a crown! Use fresh flowers and contact paper to create these gorgeous DIY paper flower crowns.
This simple stitching project is easy and fun for even the youngest kids. Sew and bead with burlap on hoops for a lovely display piece for Mom.
One of our favorite suncatchers to create is a nature suncatcher with contact paper, flower petals and leaves. The options are endless, and you can make them in any season! And a simple paper plate creates the perfect frame for your suncatcher!
8. Bake something sweet!
Bake Mom her favorite sweet treat! If you need inspiration, you can try one of our favorite recipes!
We LOVE making shaving cream marbled paper! You can use that paper for a variety of lovely items, including hearts, cards, or the cover of a homemade notebook just for Mom.
Try your hand at dyeing fun pasta shapes. Then you can string your dyed pasta onto yarn or pipe cleaners to make bracelets or necklaces!
This circular weaving version is about as simplified as you can get and perfect for preschoolers on up! The best part is you can use any old craft materials you have lying around and they make a lovely gift for Mom!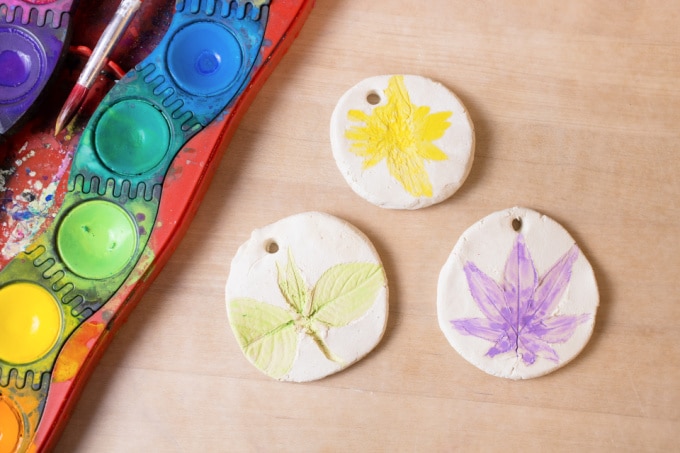 12. Try clay leaf prints for ornaments and pendants
This easy nature craft project is fun for kids and creates a beautiful finished product that Mom will love to wear or display.
Use paint and collage materials to make a monochrome art collage in Mom's favorite color! She'll be sure to hang this special piece of artwork up!
Make Mom a flower bouquet that will never wilt! Use fresh flowers and paint to make a gorgeous, printed arrangement.
Help Mom spruce up her garden for spring! These simple beaded garden ornaments add color and interest to the garden or to potted plants.
Do you have a preschooler at home? What are your favorite Mother's Day crafts? Anything you've received or made that was particularly special?
More Preschool Mother's Day Crafts (and kids of all ages!)
Pin It for Later