Melted bead suncatchers are easy to make from kids plastic pony beads. Follow these step-by-step instructions to make a beautiful and durable suncatcher.
Updated April 2021
Yesterday we made melted bead suncatchers, an idea I found on Craftster.
Now that Maia is on summer vacation, we have been using Daphne's nap time to read and, often, to work on an art or craft project together.
The melted bead suncatchers were surprisingly easy to create yet are very durable.
Unlike most suncatchers and stained glass projects we make out of paper or contact paper, these melted bead suncatchers will last and last and will also withstand the elements for outdoor use.
Update: Here's a video I created, showing how to make the melted bead suncatchers.
And here are the step-by-step instructions and photos:
How to Make Melted Bead Suncatchers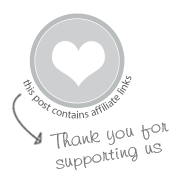 MATERIALS
Metal baking dishes (such as an old muffin tin or a cake pan)*
Outdoor grill (best) or toaster oven
*After doing this several times, we've decided that it's best to use older or thrift store baking dishes that you'll dedicate to crafts.
INSTRUCTIONS
Arrange beads in metal baking dish.

We started with cheap, translucent pony beads. I bought ours at our local craft store, but they are available on Amazon as well. We arranged the pony beads into a single layer in metal baking dishes.

She started with a cake pan but was soon daunted by the size and switched to the smaller muffin tin sections.

By the way, I was skeptical about melting the plastic beads in my baking dishes. I half thought that they would never come out and I'd be stuck with ruined pans, but that wasn't the case. As soon as a bead suncatcher was cool, it popped right out and didn't leave any visible residue at all!





While Maia created several smaller suncatchers, I used the cake pan to make one large suncatcher. I arranged my beads to form a sun as you can see in the partially completed design below.




Melt the beads.

Important Note! The melting plastic is not good to breathe, so this step is best done outside.

While we originally made our suncatchers in the oven, we've since made all of our melted bead suncatchers on the gas grill outside, thanks to a comment from Lou. It works great and only takes about 10 minutes! Some readers have been using a toaster oven outside, which may be another good solution.



Let the suncatchers cool.

Once the suncatchers were cool, I inverted the pans and they popped right out! As you can see from the somewhat pebbly surface, they probably could have used a few more minutes in the oven.



Hang your melted bead suncatcher.

Next we drilled a small hole in each with the power drill, then strung some old kite string through the holes to hang them up. We decided to hang the melted bead suncatchers on the front porch to catch the morning sunlight.


Aren't they lovely?
Maia has already said she wants to make more and I have to admit that I'm eager to try different colors and designs myself. I think they would make great gifts as well.
By the way, look how the round beads melted into hexagons. And when the beads were more widely spaced out or set on their sides, some of them melted into rectangles and pentagons.
Now we have a riot of colorful melted bead suncatchers to join the melted crayon stained glass bunting on the porch!
Perhaps it's time I just give in and admit this is a stained glass and suncatcher blog. 🙂
6 More Ideas for Melted Bead Suncatchers
If you're looking for more melted bead suncatcher ideas, here are several more of my melted bead suncatcher posts.
Pin It for Later