An easy tutorial for making plastic bead suncatchers with a rainbow of translucent pony beads. The perfect addition to any window!
Updated May 2022
If you've been following the Artful Parent for a while, you might know that we have a mild obsession with melted bead suncatchers, making everything from basic suncatchers to melted bead art, garlands, and DIY fairy wands. We've tried all kinds of different configurations and ideas for melted pony beads, but we really love these rainbow suncatchers the best!
These are so pretty and make a perfect gift for a summer birthday or an end-of-the-year gift for a teacher!
But melting plastic is toxic, so be sure to follow the directions closely and do this project outside!
Here's a video of rainbow bead suncatchers in action, and keep scrolling for more details.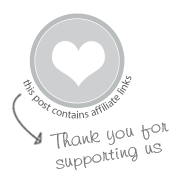 Plastic Bead Suncatchers
MATERIALS
Small, round metal baking dish*
Grill
Drill (optional)
*We used a foil-lined mini cake pan this time, but you can also use regular cake pans or muffin tins. We suggest lining it with foil first if you're going to use the baking dish for food afterward. Or pick up some metal baking dishes as a thrift store or yard sale and dedicate them to crafting.
INSTRUCTIONS
Arrange plastic beads in metal dish

First, lay out your plastic pony beads in the small metal baking dish. You can use a concentric rainbow design as we did here or any design that you like.

Remember you want to use translucent pony beads. They need to be somewhat transparent so they will act like a suncatcher and let the light shine through them.



Melt Beads on Grill

Important Note! The melting plastic is not good to breathe, so this step is best done outside.

We make all of our melted bead suncatchers on the gas grill outside, so that we don't get any toxic chemicals inside. The grill works great and only takes about 10 minutes! You could also use a toaster oven outside. But whichever way you melt the beads, be sure to do so outside!

Start checking the melting beads after about 10 minutes. You want the beads to be fully melted (not bumpy or pebbly) but you also don't want the plastic beads to heat for too long and burn.



Let cool

Carefully remove the pan with the melted and fused plastic beads from the grill and set it on a cooling rack or hot pad to cool. Once the suncatcher is completely cool, remove it from the baking dish (it should pop right out).



Let the sun shine through!

Hold your new plastic bead suncatcher up to the light and admire!



Drill a hole to hang your suncatcher (optional)

Finally, you can use an electric hand drill to drill a small hole at the top of your suncatcher to add a hanging loop.
This last step is optional. You could also use a hot glue gun to glue a hanging ribbon to the top.


Have you tried making plastic bead suncatchers yet? They are such a fun summer craft, plus they make great gifts!
More Suncatchers for Kids
Pin It for Later