How to make tissue paper suncatchers with embroidery hoop frames. This is a simple and beautiful suncatcher craft for kids and adults alike.
Did you see the tissue paper suncatchers I shared on Instagram earlier this week? We love them! And are planning to make more so that there is one hanging in each of the six windows of our art studio. (Three to go…)
You know me and suncatchers. I've joked at various times that this is actually a suncatcher blog since we make so many of them.
But why not?!
Suncatchers combine color and light so beautifully!
I get excited about them the way I imagine some people get excited about shoes. I wear the same pair of comfortable shoes every day. But I'll try every suncatcher idea I can think of, matching the suncatcher to the season or the holiday and experimenting with new materials and techniques.
Which brings us back to the current lovely favorite…
Tissue paper suncatchers on wax paper in an embroidery hoop frame.* They were fun to make and look beautiful in the window. Here's how we did it…
*You can also do this with a paper plate frame and I'll include that variation below.
Tissue Paper Suncatchers in Embroidery Hoop Frames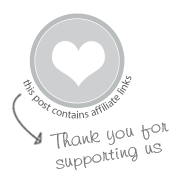 MATERIALS
Suncatcher Instructions
First, glue a sheet of wax paper to one side of the embroidery hoop with the hot glue gun. Or, if you have more time and patience, just use some regular glue.
Trim off the extra wax paper with a utility knife or with scissors.
Note: If you want to use a paper plate instead of an embroidery hoop, simply cut out the center of the plate and glue a circle of wax paper to cover the opening.
Brush watered down glue to the wax paper and apply torn or cut pieces of colored tissue paper. Brush more glue over the top of the tissue paper.
Making suncatchers in serious business.
(I love how Daphne is perched on the stool in this photo with her bath-puckered feet tucked under her!)
Continue gluing on the colored tissue paper in any design you like, random or otherwise, until you are happy with it.
Daphne decided that her suncatcher was lacking in colored feathers and arranged a rainbow of them around the perimeter.
She also glued a single googly eye to the center and added glitter (because googly eyes and glitter make everything more fun).
We let the suncatchers dry overnight then tied a loop of string at the top and hung them in the art room windows.
Here's Daphne's above.
And Maia's. She also added feathers and glitter as well as tiny glass beads.
And here's my plain Jane suncatcher.
The suncatchers look great in the studio windows! They look pretty good from the outside, too.
6 More Tissue Paper Suncatchers for Kids
Pin It for Later