How to make a colorful melted bead suncatcher mobile from plastic pony beads. This is such a fun craft to do with kids & makes a great decoration or gift!
We have made several rounds of the melted bead suncatchers since first posting about them and Maia wants to do even more!
This has been such a fun and popular crafty activity in our house.
A good friend is about to have a baby so we decided to take advantage of our current melted bead suncatcher craze to make a baby mobile out of them—one that is colorful and catches the light beautifully.
Here's how we did it…
A Melted Bead Suncatcher Mobile with Fun Shapes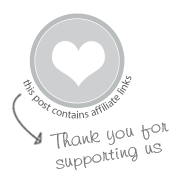 MATERIALS and TOOLS
Metal baking dishes, including a pie pan
Gas grill
String
INSTRUCTIONS
Step 1: Arrange pony beads within cookie cutters
To begin, we arranged our pony beads into the suncatcher shapes.
This time, in addition to the cake pan and muffin tin suncatchers that we've done before, we tried some metal cookie cutters for fun shapes. As before we used translucent pony beads
(the opaque ones don't work for suncatchers).
I wasn't sure the cookie cutter idea would work—I half thought that all the plastic would melt out of the bottom—but really wanted to give it a try.
They worked, though!
There was a tiny bit of leakage, but not too much.
Maia picked out the cookie cutters she wanted to use and I set them on a baking dish to provide a bottom for the cookie cutters.
Maia was in charge of the cookie cutters and the cake pan suncatcher (above). She mixed all the beads together this time rather than trying for specific colors or patterns.
Daphne proudly made the little, round muffin tin suncatchers.
(She piled the beads in generously; I took a few out when she wasn't looking to keep it to a single layer. I was worried that they wouldn't melt readily with too many.)
Step 2. Melt the bead suncatcher shapes
Once we had our pony beads arranged in a single layer in baking dishes and metal cookie cutters, we melted them on the grill. It took us about 10 minutes last time we did this (with just one pan), but this time we put all three dishes on the grill at once and it not only took longer, but we had to keep rotating them since the outer edges didn't melt nearly as quickly.
So, if you melt your suncatchers on the grill, learn from our mistake and just do one or two pans at a time and get them as close to the center of the grill as possible.
Step 3. Cool and Drill
Next, we removed the new suncatchers from their molds and drilled holes.
After the melted beads cooled, they popped out of the muffin tin and cake pan as easily as before. The cookie cutter shapes did not pop out as easily (and two of them never came out).
Harry drilled holes in them as he did with the first round of melted bead suncatchers. Each small shape got one hole and the cake pan suncatcher got five holes around the perimeter and one in the center.
Step 4. Assemble the mobile
Finally, we assembled the baby mobile with string.
The idea for the baby mobile was to use the big cake pan suncatcher as the top and hang all the little shapes from it. (You could also do this with an embroidery hoop at the top.)
After I struggled with knots coming undone, Harry called me knot-challenged (hmmph!) and took over the assembly himself. He hung the top part from the bedroom ceiling and worked from there. It came together beautifully!
Maia is looking at it from a baby's perspective (above).
The mobile is really lovely hanging in the light, though! I hope that this new baby will be able to look up at it in a sunny window spot and enjoy the sunlight shining through the colorful melted beads.
We presented the suncatcher mobile to our friend over the weekend and are waiting to hear about new baby news any day now.
Btw, if you're looking for MORE melted bead suncatcher ideas, I have lots!
9 Melted Bead Suncatcher Ideas
Pin It for Later