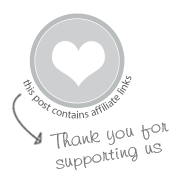 It turns out that eye stickers make great drawing prompts for kids.
Who knew?!
We have a roll of eye stickers that is completely awesome in every way.
We've always been big fans of googly eyes and frankly I didn't see the point of eye stickers for a long time. I just thought that googly eyes trumped them in every way.
But! It's not true at all.
Eye stickers rock.
And I want to thank Abby Glassenberg of While She Naps for recommending eye stickers enthusiastically enough that I gave them a try. (We were discussing favorite kids' arts and crafts materials on her podcast with Amie Plumley of Sewing School.)
I ordered a roll of eye stickers from Discount School Supply and we've been using them ever since.
The roll is large (big enough for a classroom!) so we've been gifting strips of eye stickers as well. 🙂
Here's a recent art activity that we did with the eye stickers as drawing prompts.
Drawing Prompts for Kids with Eye Stickers
MATERIALS
Drawing tools, such as markers or colored pencils
INSTRUCTIONS
Okay, so here are the super fancy, detailed instructions…
1.  Place a number of eye stickers on a sheet of paper in any configuration desired.
2.  (Optional) Add a few words or question, to inspire or direct the drawing somewhat.
3.  Hand the eye sticker drawing prompt to your child to draw.
And yeah, that's not my child in the photo above. That's Fiona, a friend and fellow sticker enthusiast.
Note :: While I set up the initial eye sticker drawing prompts for my daughters and their friends, they added the stickers themselves for all subsequent eye sticker drawings.
Because stickers are too fun to let someone else be in charge of them.
We used black paper for some of the artworks, combined with white pencils (from a pack of colored pencils)…
…and with metallic Sharpie markers.
…and white paper for some of the artworks (combined with colored markers)…
We used the black and white eye stickers I bought for some…
…including to decorate packages we were sending out.
…and some colored eye stickers that Discount School Supply has since sent me to try (at my request) for others.
How about you? Have you tried eye stickers like these? What did your family think?
If you'd like to buy the eye stickers pictured here (they are awesome!), you can get them from Discount School Supply ::
I love that they come in big rolls of two matching eyes side by side. Plenty of stickers and inspiration to last and to share!
More Sticker Drawing Prompts for Kids
Pin It for Later ::