Gather some rocks on a walk and head home to make these fun painted rock houses! This is such a fun and easy nature activity for kids of all ages.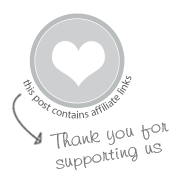 Want to make some charming little rock houses for your garden or for play? These cute houses are super fun for kids to make (using rocks as a canvas is surprisingly satisfying!) and a cute addition to your garden. You could also use them for pretend play, of course, or gift or display them.
These were made by 7 year old Maia and 3 year old Daphne several years ago in preparation for an activity in The Artful Year book that we didn't end up using. And we love them so much that I've been meaning to share it here on The Artful Parent ever since!
Better late than never, right?
Painted Rock Houses for Kids
MATERIALS
Small to medium rocks, cleaned*
Paintbrush
Sharpie markers (metallic Sharpies are especially nice!)
*If you can find rocks that are domed or house shaped, they work especially well.
INSTRUCTIONS

1. Paint rock
Begin by painting the main colors of the rock house. You may choose to add windows, a door, and perhaps a roof.
Let dry.

2. Add details
After the painted rock house dries, it is time to add additional details with Sharpies or other permanent markers. We especially like metallic Sharpies for this step.
3. Time to play!
Painted rock houses are wonderful to display anywhere in the house or outdoors!
Kids may enjoy creating a fairy house to place under a tree, or a house to incorporate with your own DIY Play Mat for Kids.
More Decorated Rocks: Ideas for Kids
Pin It For Later