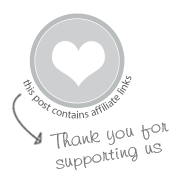 I've been sewing, in some way or another, since childhood. And while I wouldn't call myself an expert, I enjoy sewing useful yet unique items for our home and family.
When planning our current beach trip, I thought it would be helpful to have a few bags for carrying things. And so I decided to use one of the free Craftsy mini classes on bag-making to whip up some drawstring bags and bucket bags.
Note :: This post was sponsored by Craftsy; all opinions expressed are my own.
I selected some fabrics from my stash, cut them according to the instructions…
…and sewed up some lined drawstring bags.
I even got out the iron (which I keep only for sewing projects)!
I like how the bags turned out but you could also simplify the design and use a single fabric depending on the look you're going for or how quickly you want to be able to make it.
We used one of the drawstring bags to hold the tiles for a game of Quirkle (which might very well become it's permanent function).
The other is holding fairies and princesses for this photo but has since been called into action to hold swimsuits for our beach trip.
After I finished the two drawstring bags, I sewed up a couple of bucket bags as well.
They were surprisingly easy…
I love how they turned out!
I skipped the outside pockets that the pattern called for, both for simplicity's sake and because I didn't feel like I needed them.
Of course, the kids claimed ALL of the bags as soon as they saw them, so they were used more for games and toys than toiletries and undies on the trip.
However, both say they want to sew their own bags as well.
Maia, at 9, is an accomplished sewist with a stuffed animal and clothes under her belt, so I know she'll be able to tackle the bucket bag with just a bit of guidance.
Daphne, at 5, has done a little hand sewing but that's all. We'll be making her bag together, likely with her on my lap for at least part of it.
If you'd like to sew a cute bag or three, I recommend this free mini class on Craftsy.
Bag Making Basics :: Drawstring Bag and Bucket Bag
By Kristin Link
Click here to sign up for the free mini class and learn how to make your own bags.
Note :: As with all Craftsy classes, you can take the class at your own pace now or later.
Here are three other sewing classes on Craftsy that I'd really like to try ::
And Sewing Bras (you probably don't need to know this about me but it's impossible for me to find one that fits!)
Disclaimer :: This post was sponsored by Craftsy; all opinions expressed are my own.
Pin It for Later ::