Since doing the glue resist winter art project last week, we've been trying a couple of other winter art ideas, including another version of the sticker resist starry night sky.
With this one, we used the star stickers as before, but also used some other stationery store stickers to create houses, sky scrapers, and cars. All with the starry night sky background.
Here's how we did it ::
A Sticker Resist Art Project for Kids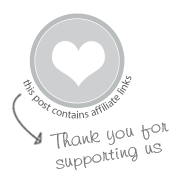 MATERIALS
Watercolor paper (or white posterboard/cardstock)
Stationery store stickers, such as labels of different sizes, foil stars, and circles
Scissors
Washi tape (optional)
Something to draw with (optional)
Watercolor paints (we used liquid watercolors but you could also use watercolor cakes in a tin)
Salt (optional)
INSTRUCTIONS
1. Use the stationery store stickers to create a house (or skyscraper, cityscape, car, robot, trees, boat, rocket ship, etc). You can assemble a variety of labels and other stickers as desired and even cut some of them into the shape you would like. (We cut out a couple of crescent moons. And some triangles for house roofs.) Add star stickers for a night sky effect.
Tip :: To make the stickers easier to remove later, press each against your pants first before pressing it to your paper.
For an optional step, you can draw details on your sticker collage artwork as Daphne did.
2. Paint over and around your sticker house with watercolor paint for the night sky. Sprinkle salt on the wet watercolors if desired for a starry look.
If, like Daphne, you (or your child) would prefer to paint the sticker houses rather than the surrounding paper/sky, that's okay too!
3. Let dry. Brush off the excess salt then lift off the stickers and washi tape, revealing the sticker scene.
Daphne removed her windows.
If desired, you can trace the buildings and add detail at this point with a pen or pencil.
How about you? Do you have some stationery store stickers you could use for a sticker resist art project for kids?
And if your kids like stickers (I don't know too many that don't), here are more sticker ideas…
13 Sticker Art Projects for Kids
Pin It for Later