We made glue resist paintings a couple of months ago—spiderwebs for Halloween—and loved the process and the product.
So now that winter is here, I thought we could give the glue resist art idea another try, this time with snow as the theme.
Here's how we did it…
Winter Art for Kids – Glue Resist Snowman Paintings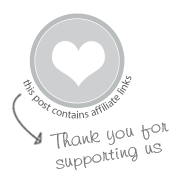 MATERIALS
INSTRUCTIONS
Step 1: Draw Your Snow Picture
"Draw" your snow picture by squeezing the glue out in your desired design or picture. We made snowmen, snowflakes, snow-covered Christmas trees, and more.
Note :: Toddlers and young preschoolers will likely find it easier to squeeze the mini glue bottles.
If your child doesn't want to squeeze at all, you can provide a pot of glue and a paint brush and let them paint the glue on (as Daphne did).
Step 2: Decorate your snowman
Press the beads, sequins, and googly eyes into the glue to decorate the snowman, Christmas tree, snowflake, or abstract design (optional).
Step 2: Let Dry
Let the glue dry completely. Ours dried overnight but it might be more or less time for you depending on how enthusiastically or thickly the glue was applied.
Step 4. Paint with Watercolors
Paint around and over the glue picture with watercolor paints. I found it easier to paint the paper with water first (in sections) then apply the watercolor paint.
If you like a more snow-like effect—in a night sky for example—then sprinkle salt over the still-wet watercolor paint.
Step 5: Let dry
Let the paint dry, then brush off any salt.
Step 6: Admire and Display!
We hung ours in a special kind of frame that was sent to us to try out a few months ago and that we have been loving and using since.
The frame is made by Articulate Gallery, a UK company, and they've started selling in the US recently.
The frame we have is a double, although they also sell singles and triples. It's high quality painted wood, very sturdy, and open at the front (so some 3-dimensionality is okay in the kids' artwork displayed) and also open at one side to make it super easy to change out the artworks in the frame.
Did I say I love it? I like it so much, in fact, both for functionality and looks that I'm considering putting together a whole gallery wall of these!
Want more ideas for winter art for kids?
Try these: 13 Winter Art Projects for Kids
Pin It for Later