This butterfly art project for kids involves printing with paint-covered string. This results in pretty, symmetrical string art designs on the wings!
This is another simple way for kids to make symmetrical butterfly art. String blottos are fun. It's basically printing with string. String and paint.
And since the results are symmetrical, it's perfect for a butterfly art project.
First, I'll share a video of how we did this, then some instructions and photos.
Now that you've seen the quick video demonstration, here are the more detailed step-by-step instructions as well as photos from when the kids and I made these string design butterflies a few years ago. (Look at how young they are in the photos!)
A String Print Butterfly Art Project for Kids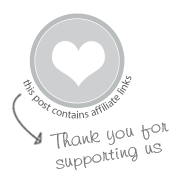 MATERIALS
String or yarn*
Paper (white or colored)
Scissors
*Sometimes we use thinner string (such as embroidery thread) and sometimes we use thicker yarn. It just depends on what we have on hand and what effect we are looking for. The thinner string is a bit trickier for little kids to manipulate but will result in a more delicate design; the thicker string will result in thicker designs.
INSTRUCTIONS
Step 1. Cut out paper butterflies
First, you'll want to cut symmetrical butterflies out of your paper. Fold the paper in half, draw half a butterfly on the paper with the body along the fold line, then cut out along the line.
Step 2. Dip yarn in paint
Next, dip your yarn or string in the paint, using a spoon or your fingers to cover the yarn with paint.
Step 3. Arrange the string design
Arrange your paint-covered string on half of the paper butterfly. Use all one color or as many different pieces of paint-y string as you like.
Step 4. Fold the paper butterfly
Fold the paper butterfly in half over the paint-covered string. Press the paper all over with your hands to make the print.
Step 5. Open to reveal your butterfly design!
Carefully open the butterfly to reveal your symmetrical string art design!
Step 6. Remove string
Pull the paint-y string off the butterfly and put it back in the bowl of paint to use again.
Let your artwork dry, then display or gift! If you like, you can draw on faces and bodies or glue on googly eyes.
3 Butterfly Art Display Ideas
You can create a large butterfly artwork with all of your new symmetrical butterflies. (Here Maia and Daphne are arranging and gluing their butterflies onto a giant string blotto artwork they had created.)
Or you can tape your butterflies directly to the wall.
Or string your butterflies together into a garland.
7 More Butterfly Art Projects for Kids
Pin It for Later