If you want to make tape resist art or signs with kids, try paint sticks! It's quicker and virtually mess-free. Here are instructions and ideas for making banners, posters, artworks, and more with tape resist.
A big thanks to Kwik Stix for sponsoring this post! As always, all opinions expressed are my own.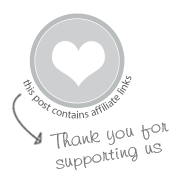 The other day, I asked the kids to help me brainstorm art projects that we could do with our tempera paint sticks.
The folks at Kwik Stix had asked me to do another sponsored post on The Artful Parent and I wanted to try something new for this next post. We've used the Kwik Stix paint sticks so many different ways and for so many different projects already, including self portrait body tracing art, kids play mats, thankful buntings, murals, costumes, and DIY cardboard frames, in addition to countless sessions of simply drawing and painting.
If you're not familiar with Kwik Stix, they are tempera paint in mess-free stick form. They glide on smoothly, dry within 90 seconds, are smudge free, fill large areas quickly, and work well with other art supplies and on various surfaces. Plus the colors are vibrant. If you haven't tried them yet, I highly recommend that you do!
You can find Kwik Stix at Walgreens, at Michaels (both in stores and online), online at Target, and online on Amazon.
Some of the ideas we came up with to try with the paint sticks this time were:
Make a giant Mother's Day Card
Create a lego city play mat (like this DIY play mat but with lego buildings and vehicles)
Draw/paint a garden
Create a giant game board
Make welcome signs for our upcoming housewarming party (kind of a cross between a tape resist New Year banner and this "Welcome to My Party" banner that Maia made when she was little)
Make signs for an obstacle course
Try tape resist art with the tempera paint sticks (instead of the messier liquid tempera paint or watercolors that we usually use)
Maia especially wanted to try her tape resist art idea and ended up combining it with the sign and Mother's Day card ideas.
Tape Resist Art with Kwik Stix
I'll share the tape resist art that the kids did, then give you ideas for LOTS of different ideas for doing tape resist.
MATERIALS
How to Make the Tape Resist Art
I spread out the craft paper and taped it to the floor.
Maia wrote the words, We Love You, on the paper with pieces of tape that she cut to size.
And then she recruited Daphne and her friend Emily inside from playing on the scooters and had them help her with the Kwik Stix part. She had a color theme in mind—warm, spring colors—and told them to scribble all over the entire paper, tape and all, with the Kwik Stix colors. They happily obliged.
Then we got out a few liquid watercolors and they added some paint over the top in a few areas.
Finally, they removed the tape pieces and inspected their tape resist art and message. It worked great!
We hung the banner on the wall and everyone is feeling well loved. 🙂
Tape Resist + Kwik Stix Variations
As the kids were working on their tape resist art, I thought of some other ways you could combine tape resist art and signs with Kwik Stix.
5 Different Sizes or Formats to Consider
Tape resist art with paint sticks can be done in many different sizes and formats! Here are five:
Poster – do the tape resist on a smaller scale with a poster board or even regular paper.
A banner created on easel or craft paper (you can even roll up the banner, slip it in a mailing tube, and mail it to someone special as a surprise)
Bunting
A regular-sized greeting card (use small tape, such as washi tape, or cut tape in half lengthwise)
9 Different Ideas for the Tape Resist Art
Here are more ideas for tape resist art/messages with paint sticks. I'm sure you can come up with some other good ones, too!
Draw a picture or design with the tape and fill it in with the Kwik Stix paint sticks before removing the tape. Try tape resist flowers, grass, butterflies, bugs, etc for a spring or summer picture. You could also make tape resist trees, cards, buildings, snowflakes, stars, or just about anything.
Make a Mother's Day or Father's Day card or poster with tape resist. For example, you can write MOM or DAD with the tape.
Make name art or initial art.
Create tape resist Thank You cards.
Tape resist banners, signs, posters, or buntings can be created for birthdays, parties, holidays, and special occasions.
Make tape resist roads and train tracks on a DIY play mat.
Try tape resist art on dark paper with a white or light-colored paint stick.
Make Abstract art or geometry with tape and paint.
If you want to pick up some tempera paint sticks for your tape resist artworks and signs, remember that you can find Kwik Stix at Walgreens, at Michaels (both in stores and online), online at Target, and online on Amazon.
Again thank you to Kwik Stix for sponsoring this post. All opinions expressed are my own.
Pin it for Later