If you're looking for fun Halloween art for preschool, try these skeleton paintings. Kids can use their body tracing to create full sized tape resist painting using their own body tracing.
Updated September 2021
We've been trying to come up with more fun, age-appropriate Halloween art ideas for kids and we think these skeleton paintings are a really great one.
You can make full-sized tape resist skeleton paintings and hang them up as spooky, cool Halloween decor!
The process was fun but not without its faults—we have some refining to do next time around.
Halloween Art for Preschool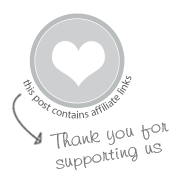 MATERIALS
INSTRUCTIONS
Trace a person

First, take turns tracing each other onto the butcher paper.



Add bones with tape

Then work together to add pieces of blue painters tape for the bones.

As you can see, for this project we referred to our much-loved copy of See Inside Your Body by Katie Daynes.



Paint over skeleton

Once the tape bones are in place, paint over the whole skeleton (and as much of the paper as you'd like) with black paint (tempera or BioColor paint work great).



Let dry and remove tape

Once your paint is completely dry, remove the tape from your skeleton.



Note: This step can actually be trickier than it sounds. If the tape rips the paper, you can go back and glue any loose pieces back down.


Don't these skeletons look great?
You could also this on an old white sheet—maybe with watered down acrylic paint.
And besides making spooky, cool Halloween decor, the tape resist skeletons are a good way for kids to learn about the bones inside their body. And as Halloween art ideas for kids go, this one is pretty awesome.
More Body Art Ideas for Kids
Autumn Arts & Crafts Ideas & Supplies
Download our FREE printable idea list of 31 Halloween activities for kids & families! Or just check out the blog post with the links. So many fun ideas for Halloween!
And be sure to check out our FALL family fun list in our Amazon store! It includes supplies for fall arts & crafts, autumn toys, Halloween ideas, and picture books about autumn.
PLUS: We're offering 50% OFF and MORE on our Kids Art Spot Halloween workshops, Fall workshops and bundles. (Sale ends October 31, 2021 at 11:59 pm EST)
Pin It For Later