Melted crayon art is one of our favorite kids art activities, but we weren't doing it right until now. A thrift-store warming tray makes all the difference!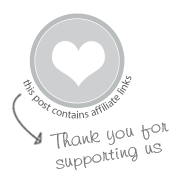 We've been big fans of melted crayon art forever.
We've been using this art technique ever since I first came across the idea in one of MaryAnn Kohl's books.
What we were not using was the right tools.
The instructions called for a warming tray which I did not have, didn't see at the store, and couldn't find secondhand (I may not have tried hard enough).
And so we ad libbed with the "cookie sheet method," which actually worked quite well. If you don't have access to a warming tray, I recommend you try melted crayon art on a cookie sheet.
However!
I came across a vintage warming tray at Goodwill recently and knew it was time to revisit melted crayon art the "proper" way.
We liked melted crayon drawings before.
But now? We're obsessed.
Daphne hasn't stopped making them.
Our studio windows are covered in their colorful stained glass magnificence.
And she's even been writing notes and letters using the warming tray.
The nice thing about the warming tray is that it's consistent, safe, and effective.
You can work safely for hours if you wanted to, creating melted crayon drawing after melted crayon drawing.
No need to reheat the cookie sheet every few minutes.
No need to keep an oven on.
And no need to protect the table with towels or the child's hand with pot holders.
I like the warming tray method so much that I wish I had tried harder to find one before. I bought mine secondhand, but you can also get them new.
Here's a video I created showing melted crayon art in action…
And here are the step-by step-instructions and photos…
Melted Crayon Art with a Warming Tray
You can do melted crayon drawings on a hot cookie sheet, too, as I mentioned earlier, but a warming tray is easier and more effective.
MATERIALS
Crayons
Aluminum foil
Electrical tape (optional)
*I bought my warming tray at a thrift store, but you can also get them new. I've seen them at places like Target and online on Amazon.
INSTRUCTIONS
Step 1 :: Set Up
To set up for melted crayon art, you'll want to cover your warming tray with the foil. (I used an 18 inch wide roll of Heavy Duty Reynolds Wrap, but I think any aluminum foil would work fine.) This will protect the warming tray and also make clean up easy. I wrapped my foil around to the back and added a little tape to help hold it, but I think it would stay in place fine without.
Plug your warming tray in and turn the heat to low or medium.
Set a sheet of paper on the surface.
Have your crayons nearby and ready to use.
Step 2 :: Draw on warm paper + tray.
Use your crayons to draw on the warm paper and tray. The crayon will melt as you draw, creating a paint-like effect of vibrant color.
Continue to draw until you are finished with your artwork.
My kids made some melted crayon artworks that completely covered with the colorful melted crayon. And they made some that still had plenty of white paper showing.
Step 3 :: Remove Melted Crayon Artwork from Tray
When the artwork is deemed complete, remove it from the tray.
Step 4 :: Make Another!
Lay another sheet of paper on the tray and continue to make melted crayon art as long as you like! As I said earlier, Daphne kept at this for hours and days.
Step 5 :: Display in the Window
You can display your melted crayon drawings anywhere, but they have a wonderful stained glass effect with light shining through them. I taped ours to our studio window.
You can see Daphne's swirly Sky with Clouds artwork above as well as a close-up detail of it back lit in the window.
Gorgeous!
How about you? Have you tried melted crayon art with your kids? Or did you do this as a child yourself?
Remember, you can do this with a cookie sheet. But I do recommend keeping an eye out for a warming tray, if you don't already have one. The warming tray takes this technique to a whole new level and make it much easier and more effective!
More Ideas to Try with Melted Crayon Art
Do the melted crayon drawings directly on the tin foil, then press a sheet of paper to the melted crayon design to lift a print.
Do melted crayon art on foil and leave it on the foil, letting it cool and harden. You can see this technique here, on Tinkerlab.
Pin It for Later