All these years I've been trimming 8 1/2 x 11 paper down to a square, then folding it and rounding off the edges to make snowflakes.
For years I've been doing this!
And then the other day, Maia grabbed one of our coffee filters (left over from the coffee filter holiday garlands), folded it, and cut out a snowflake.
So quick. So easy. No extra cutting or folding to get it into the right shape because it's already round. And easy to cut through the layers since it's lightweight.
Coffee filters make the best snowflakes! Why didn't I know that? It seems so obvious now. I've obviously missed a memo somewhere. So here's how to make coffee filter snowflakes…
How to Make Coffee Filter Snowflakes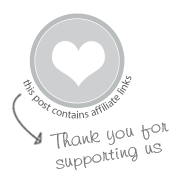 MATERIALS
INSTRUCTIONS

1. Fold
Fold a coffee filter in half and then in half again, creasing the folded edges. You can fold another time or two, but for the little kids this is generally enough.
2. Cut shapes & lines
Use your scissors as you would with a regular paper snowflake and snip triangles, lines, and shapes along all of the edges of your folded coffee filter.
3. Unfold snowflake
Carefully unfold to reveal your coffee filter snowflake design!
4. Paint
If desired, paint with watercolor paint to add some color to your new snowflakes.

We've been cutting many, many snowflakes over the past two days.

And since coffee filters take watercolors so well, we've been painting some as well. This is as much fun (or more!) as cutting them.
A few dabs from the glue stick to hang our new painted coffee filter snowflakes in the window and we have a winter wonderland inside and out!
Fun times on a snow day!
How about you? Did you enjoy learning how to make coffee filter snowflakes? What are your favorite winter arts and crafts activities?
Pin It For Later