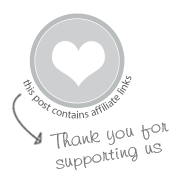 A chalkboard drawing prompt created by me for Maia—five large circles/ovals with the directive to "finish the faces."
She did so with enthusiasm, incorporating some of the facial features she has learned from Ed Emberley's Drawing Book of Faces.
She used some variation (the eyes and hair style are different on each) and some repetition (the noses and mouths are the same on each, albeit different colors).
This was interesting for me to see, especially as she wasn't referring to the book as she drew.
Have you tried offering drawing prompts for your kids?
If you'd like some ideas, here are others…
More drawing prompts for kids
Pin It for Later ::