How to make a beautiful melted crayon stained glass bunting for New Years or anytime using words, wishes, and images. This is a great family craft project!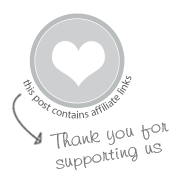 As part of our welcoming of the New Year, we started to make a variation of our "Words & Wishes for the New Year" bunting (from The Artful Year book) and then decided to take it in a whole new direction. There are still words and wishes on this one, as well as doodles and drawings, but it turned into a super-colorful stained glass bunting for the window.
Here's how we did it:
Easy to Make Melted Crayon Stained Glass Bunting
MATERIALS
INSTRUCTIONS
1. First, make the paper bunting.
Cut the paper into triangles and sew together along the top with a basting stitch on the sewing machine. (OR, if you prefer, you can glue them along a 1/4 ribbon.)
2. Preheat the cookie sheet in the oven at 350F.
While the cookie sheet is heating up, protect your work surface by laying down an old towel, folded over.
NOTE: If you want to skip the melted crayon drawing part of this, use oil pastels instead of crayons.
3. Draw and write on the paper bunting.
Set the hot cookie sheet on the towel, warn the kids about the heat, and give them an oven mitt to protect their non-dominant hand. Lay the paper bunting over the cookie sheet and draw and write on the paper with the crayons. The crayons will melt as they draw. Once the crayons stop melting, put the cookie sheet back into the oven to reheat. Repeat the drawing and reheating process as necessary.
Here's Daphne's bunting with finished drawings and doodles.
Here's one of my buntings with words and mostly white crayon drawings.
4. Paint the bunting with liquid watercolor paints.
Let dry. Press the bunting under a heavy book to flatten if necessary (the thinner paper will curl a bit as it dries).
How to Give the Bunting a Stained Glass Effect
5. Paint the back of the bunting with a thin coat of vegetable oil.
The oil brightens the colors and makes the paper more translucent…
…so sunlight can shine through all that colorful beauty.
I just love how the stained glass bunting looks in the window!
Maia did this activity as well, by the way, but put her own spin on the melted crayon bunting. She "painted" the paper bunting triangles with the melting crayon, covering all but the thinnest strip along the top with a rainbow of solid colors. As well as one special triangle holding all the colors of the rainbow.
I love it too and hung it within a frame on the kids' art display wall.
10 More Stained Glass Craft Ideas for Kids