Make this autumn leaves craft by turning colorful fall foliage into a beautiful stained glass window that brings seasonal color indoors.
We made a new stained glass window for our front door using Autumn leaves and contact paper.
Isn't it so pretty?
These leaves are from a nearby tree. We love gathering colorful fall leaves so much that we're always on the lookout for them – even when running errands!
Here's how to make this simple Autumn leaves craft
Autumn Leaves Stained Glass Window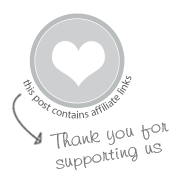 MATERIALS
Aren't these leaves beautiful with the sun shining through?
To make this leaf stained glass, add autumn leaves face down to the sticky side of transparent contact paper. Then simply stick the contact paper directly to the window. When you're ready for a change, just pull the contact paper off the window.
A few of the leaves on this panel were dried, but for the most part we used freshly picked leaves. From making flower petal and leaf suncatchers in the past, we've learned that after a week or two the leaves and flowers look as though they've been pressed and dried, especially if they were thin to begin with (i.e. there isn't a full flower or layers of flowers but rather flat leaves or flower petals).
If your children would like, they can draw on the contact paper pieces with sharpies first, before adding the leaves.
We love using front door windows as art displays. All the stained glass effects we're able to create, using seasonal inspiration and different techniques.
More Leaf Art Activities for Kids
Autumn Arts & Crafts Ideas & Supplies
Download our FREE printable idea list of 30 autumn activities for kids & families! Or check out the blog post with the links. So many fun ideas for fall!
And be sure to check out our FALL family fun list in our Amazon store! It includes supplies for fall arts & crafts, autumn toys, Halloween ideas, and picture books about autumn.
PLUS: We're offering 50% OFF and MORE on our Kids Art Spot Halloween workshops, Fall workshops and bundles. (Sale ends October 31, 2021 at 11:59 pm EST)