A fun and easy Fall leaf art activity created by making your own scratch art paper inspired by the colorful leaves!
Updated June 2022
It's that time of year again! Autumn, when we can collect leaves of all different colors and use them for so many crafts! Each autumn leaf is a work of art – a tiny canvas worthy of framing.
Here's a leaf art project we love, inspired by some of the beautiful fall leaves we've collected.
Did you know that you can make your own scratch art paper? It's super simple and fun! In this post, we'll show you how to make beautiful Autumn leaf scratch art paper, but you can also make spooky Halloween scratch art paper!
Fall Leaf Art with Scratch Art Paper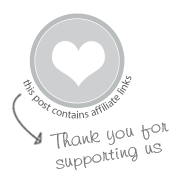 MATERIALS
INSTRUCTIONS
Fill your paper with color

First, cover the paper with oil pastel drawings until the entire sheet is full of color. You can draw something specific or abstract designs.



Optional: You can cut this paper into smaller pieces, to make more pages of scratch art paper.

Cover your color

Cover the oil pastel drawings with paint, making sure to cover the drawing completely. The purple seemed like it might not work with the autumn colors, but it was perfect! And reminded us of the lovely fall flowers blooming.



Add your leaf designs

Finally, scratch your autumn leaf designs through the surface of the wet paint with toothpicks and Q-tips.



Optional: use a layer of oil pastels instead of paint

You can also try a scratch art technique from Babble Dabble Do where you layer black oil pastel over the colored oil pastel.

This definitely takes more time and muscle power than a quick coat of paint, but once it is on, it is a stunning way to make scratch art designs.


We recommend you make some fall leaf art with scratch art paper! If you make your own scratch art papers, you can focus on autumnal colors (even purple!) or if you want to use pre-made scratch art paper, that works just great, too.
More Fall Leaf Art Activities
Autumn Arts & Crafts Ideas & Supplies
Download our FREE printable idea list of 30 autumn activities for kids & families! Or check out the blog post with the links. So many fun ideas for fall!
And be sure to check out our FALL family fun list in our Amazon store! It includes supplies for fall arts & crafts, autumn toys, Halloween ideas, and picture books about autumn.
PLUS: We're offering 50% OFF and MORE on our Kids Art Spot Halloween workshops, Fall workshops and bundles. (Sale ends October 31, 2021 at 11:59 pm EST)
Pin It for Later