I made some quick and easy picture frame wallpaper for my kids and their art yesterday by taping up some wide white butcher paper and drawing an assortment of frames on it.
Maia, Daphne, and our friend Marlise all had lots of fun drawing pictures inside the frames, decorating the frames themselves, and, in some cases (mostly involving the toddler) drawing all around the frames.
It was a hit!
And all I needed was paper, tape, and drawing tools.
We've done this before on the chalkboard, but I thought I'd try an even larger version with paper this time. I was inspired by some commercial wallpaper I had found online (unfortunately, the link no longer works) but wanted something easy, inexpensive, and not quite so permanent.
I love how it looks, though, and plan to leave it up for a while…
How I Made the Picture Frame Wallpaper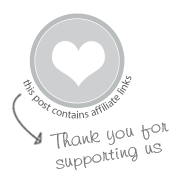 MATERIALS
First I hung the butcher paper on the wall with masking tape and some moral support from Daphne. I trimmed the paper off near the baseboard and taped the bottom to the wall as well.
Then I drew a variety of shapes and sizes of frames with a black sharpie. This was Daphne's nap time but she took a shorter-than-usual nap yesterday then directed my frame drawing, telling me to "draw a little, little frame here, Mama."
When Maia and Marlise came home from school, they started right in with their drawings…
They collaborated on some of the drawings and also worked on their own pictures.
The girls had a new box of oil pastels
to use. I thought they'd be a good choice for this project because they go on so smoothly and vibrantly. Also, you can use the side of the pastel for filling in larger areas. While I demonstrated using the side, though, they stuck to drawing with the tip.
Daphne's scribbles and marks were all over the place, of course, both inside the frames and out.
I'm not sure why the kids drew drew only portraits, but we now have a wall of smiling faces in our living room. Plus a rainbow inside a sun, which I LOVE (see lower left).
This picture frame wallpaper was so easy to set up as an art activity—I recommend it! I really like how frames make kids approach their drawing and art a little differently. Sometimes it's good to think inside the box. Heh.
Do you have butcher paper? If not, you could also use easel paper
and maybe just tape two sheets side by side.
Or you could use the big brown contractors paper that you can get at mega home stores (cheap!). With the brown paper, you could either use white paint to paint inside the frames first (I considered doing this, just because I thought it would look cool), letting the paint dry before letting the kids draw or paint their pictures. Or, you could just let them draw on the paper as is. Oil pastels are vibrant enough to show up pretty well on the brown.
More Frame Drawing Ideas for Kids
Pin It for Later ::