Tips and ideas for drawing the human body for kids, including blind contour drawing, observational drawing, and using a wood mannequin.
The kids and I have been learning about and drawing the human body recently.
My hope is that by exploring how the human form is put together and different ways of drawing it, we'll all become more comfortable depicting it in our artwork—me, of course, but also my daughters. Here's some of what we've been doing:
assembling a 2 1/2 foot model skeleton (they are calling her "Grandma Johnson")
drawing each other
drawing our own hands and feet
doing body tracings
drawing our good buddy the wooden mannequin.
I want to encourage my children to see—really see—the human body and to practice drawing what they see. To get beyond the stick figures that Daphne's drawing and the hyper self-consciousness that Maia has about her work sometimes these days if it doesn't look perfect or like her best artwork ever.
But just learning about how the body is put together and works is important on its own. Kind of like an owner's manual for our body.
Ways to Learn About the Human Body
We're reading books about the body including ::
Both kids are learning to do some pretty amazing things with their bodies in gymnastics
We're currently trying to figure out some family food sensitivities that are affecting the health of our bodies
We built a 3-D model of the human body
And drawing!
Observing and drawing the human body is a great way to learn about how the body is put together and how it works.
We've been doing blind contour drawings…
(Which usually means we're looking at the object and not what our hand is doing on the paper. Although as you can see from the photo above, Maia likes to cover her eyes sometimes as well.)
Blind contour drawings make the girls giggle!
We've been sketching each other…
We've drawn our hands…
Although the kids did as much hand tracing as observational drawing!
We each sketched the wooden mannequin quite a bit…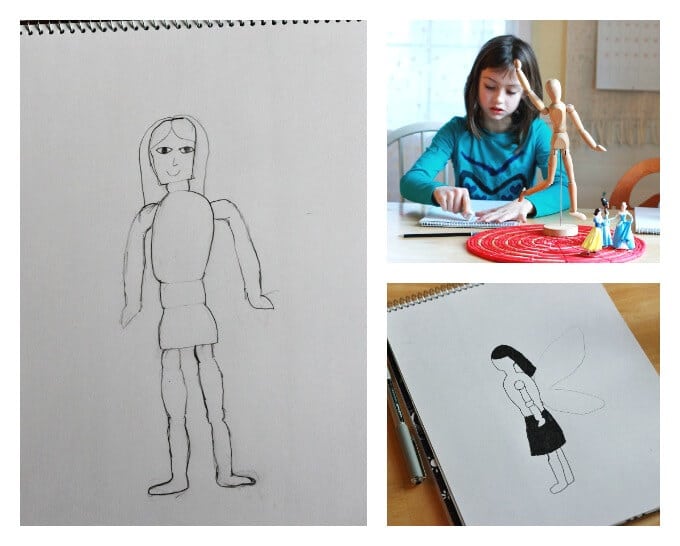 …even ad libbing hair and fairy wings.
We did body tracings and paintings (the kids decided it was much easier to get proportions right this way!)…
And we even played a back-and-forth drawing game with figure drawing, taking turns adding body parts.
Through it all, I've been using one of Craftsy's free e-guides (Drawing the Human Body) as a reference. The guide is written for adults so I'm learning a lot and sharing some of the information with my kids when it seems appropriate.
This Drawing the Human Body e-guide is excellent and there's so much information in it, it's hard to believe it's free. I chose it for the subject matter, obviously, but also because Paul Heaston, one of the authors, is one of my favorite Craftsy instructors (he did the sketchbook class).
By Sandrine Pelissier and Paul Heaston
A few helpful tips on drawing the human body from this e-guide ::
Draw an external envelope of the figure, you can see it as a block of stone you would use if you were to carve the figure. Make it large enough for the entire figure to fit in it, and then refine it step by step.
Instinctively, we often imagine that the hand is way smaller than the head, but actually the head is about the same length as the hand, and also about the same length as the foot without the toes.
If you become frustrated or bored with your drawings, you can try changing medium. [Some they recommend are paint, charcoal, colored pencils, markers, ink.]
Reading this e-guide is making me want to take a life drawing class again! Something I haven't done in 15 years.
How about you? Have you explored drawing the human body yourself or with your kids?
If you're looking for more people drawing ideas, here are some ::
Drawing the Human Body for Younger Children

Drawing the Human Body for Older Kids and Teens
This post was sponsored by Craftsy; all opinions expressed are my own.
Pin It for Later ::