I like to offer art prompts to kids on occasion because I find that they inspire creative responses. In coming up with a solution or reaction to the art prompt, the children create in ways that they wouldn't otherwise when faced with a blank sheet of paper.
This past week, I created a couple of connect the dots art prompts for the kids in my art class and also for my own kids.
And I absolutely love the resulting geometric art that we now have hanging on our wall!
Geometric Art for Kids with a Connect the Dots Art Prompt
A big thanks to Kwik Stix paint sticks for sponsoring this post! As always, all opinions expressed are my own.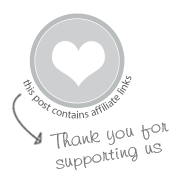 MATERIALS
Big paper or cardboard
Tape
Kwik Stix paint sticks*
Watercolor paint (optional)
*You can buy the Thin Stix (pictured in this post) online on Amazon. And you can find the regular Kwik Stix paint sticks at Walgreens, at Michaels (both in stores and online), online at Target, and online on Amazon.
INSTRUCTIONS
STEP 1: Prepare the Connect the Dots Art Prompt
First, tape your large piece of paper down to hold it in place as you work. You can do this on the floor (as shown in the photo above), on a table (as Daphne and I did in the photos below), on an easel (for something smaller scale), or on the wall.
Then add dots all over the paper.
I spaced mine out relatively evenly in a grid formation but didn't go so far as to use a ruler or anything. You could do the same, use a ruler, or add your dots more randomly. Up to you.
Step 2: Invite the Kids to Connect the Dots
The two to four year olds in my art class colored over the dots, scribbled on the paper, circled the dots, and connected a few of them. But really they were more fascinated by the water beads I had set up at one of the activity stations.
Daphne, however, took me up on the connect the dot art activity and we worked on the large scale collaborative artwork together while listening to a Harry Potter book on Audible.
Step 3: Fill in the Geometric Designs with Color
For our geometric artwork, we used the Thin Stix paint sticks sent to use by the Kwik Stix folks and loved them even more than the regular Kwik Stix, if that's possible.
The Thin Stix are longer and skinnier—shaped more like markers, in fact—but are the same tempera paint sticks otherwise.
Step 4: Add Watercolor Paint (optional)
Along with the paint sticks, we also used some watercolor paint on our collaborative artwork.
Step 5: Display Your New Geometric Artwork
I trimmed the edges of our geometric artwork and hung it in our living room.
7 Reasons We Love Kwik Stix and Thin Stix
These tempera paint sticks:
Glide on smoothly
Have vibrant colors
Dry within 90 seconds
Are mess free
Fill large areas quickly
Work on paper, cardboard, wood, and pumpkins
Play nice with other art supplies
If you haven't tried paint sticks yet, I highly recommend them!
Again, you can buy the Thin Stix (pictured in this post) online on Amazon. And you can buy the regular Kwik Stix paint sticks many places, including Walgreens, Michael's (in stores and online), and Amazon.
More Geometric Art for Kids
Pin It for Later
Thanks again to Kwik Stix for sponsoring this post and for sending us paint sticks to use and review! As always, all opinions expressed are my own.