The kids and I recently revisited one of our favorite fabric decorating techniques.
We used this fabric decorating technique to make some lavender eye pillows as Mother's Day gifts for the grandmas as well as to sell as a preschool fundraiser. The glue batik seemed perfect for the small eye pillows (we've done it on curtains before and it was just too much).
I'll share the instructions for the lavender eye pillows tomorrow or the next day, but today I wanted to show the step-by-step instructions for glue batik.
How to Do Glue Batik with Kids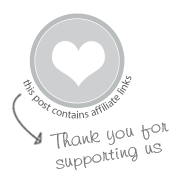 MATERIALS
*A note about the acrylic paint :: We've always used the thick stuff from a tube before and watered it down really well. This time, we used more of a liquid acrylic paint like this, and it was easier to work with. Go with what you have, but if you're going to buy some paint specifically for this project, I'd go for the liquid acrylics.
INSTRUCTIONS
1.  "Draw" your design on the fabric with the squeeze bottle of Elmer's Blue Gel Glue. 
And yes, it's gotta be the blue gel. We tried doing this with the clear gel kind once and it didn't work nearly as well.
2. Let dry completely. We let ours dry overnight.
3. Paint over the fabric and dried glue designs with watered-down acrylic paint. 
If you're interested in those little pots of acrylic paint, I bought them from Stubby Pencil Studio. We used those as well as some other liquid acrylics I bought at a local craft store.
'
Here's one of Daphne's bigger glue batik pieces (for a neck pillow rather than an eye pillow).
And here are some of my smaller eye pillow fabric pieces.
4. Let the paint dry.
5. Soak the glue batik fabric pieces in warm/hot water for one hour to soften the glue. 
(Yes, we have a peach-colored bathtub.)
6. Scrub the softened glue off with a nail brush or scrub brush.
7. Dry once again. You can let them air dry or pop them in the dryer with an old towel. Iron if desired.
As you can tell, there are a fair number of steps to decorating fabric this way but it's all easy. And worth it!
Update :: Here's my post on how to Make Lavender Eye Pillows with Glue Batik Art
Have you tried glue batik yet? If not, I highly recommend giving it a try!
Some ideas for what to make with this technique…
Pin It for Later ::