We made a new set of garden wish flags this past week, as part of our plan to increase the magic of our gardening space, and hung them in the backyard.
These flags carry our wishes and hopes for the garden and for the gardening season. Let's hope they do the trick!
We first made garden wish flags a couple years ago and absolutely loved them all season long. (I blogged about them here.) However I didn't hold on to them, figuring that they were best made fresh each year.
We made a different kind last year, using the glue batik method. They were pretty awesome, but sadly we used the wrong kind of paint and they never made it out to the garden.
This year we went back to the good old fabric crayons for our wish flags. Here's how we did it…

How to Make Garden Wish Flags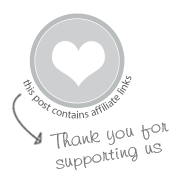 MATERIALS
INSTRUCTIONS
First, I cut some white cotton fabric from my fabric stash (I think it was from an old sheet) into triangles with my pinking shears.
The pinking shears were so I wouldn't have to hem the edges. I wanted this set of garden wish flags to be as easy and quick as possible to make, but didn't want the edges to unravel either.
I taped the edges of the fabric to the table with painter's tape to hold the fabric taut while we drew.
We drew pictures on the fabric using our favorite fabric crayons—Pentel Fabric Fun Dye Sticks. Here Maia's drawing a bee to encourage pollinators in the garden.
She also drew an earthworm, healthy soil, a ladybug under a magnifying glass, and a bird.
Daphne made some lovely abstract wish flags that will surely work their mysterious magic in the garden.
I added wishes for lots of flowers, plenty of rain, butterflies, and sunshine.
Once we finished, I removed the flags from the table and ironed them to set the crayon drawings.
I loved having colorful printed fabric as part of our garden wish flags last time, so we repeated that aspect again. This time I cut triangles (again with the pinking shears) to roughly match the white fabric triangles.
I arranged the drawings and the printed fabric back to back and sewed a 1/4 inch ribbon along the entire length, leaving a foot or so at each end for tying.
Finally, I hung the garden wish flags in the garden! I tied each end to a bamboo garden pole stuck in the ground (and later added a third one in the center).
Here's the side with all of our wish drawings.
And here's the side showing the colorful printed fabric.
I love how they flutter in the breeze, adding color, energy, and our special wishes to the garden. The garden can't help but thrive this year, right?
Pin It for Later ::