As Halloween crafts go, this melted bead Halloween suncatcher is easy to make. And the Jack-O'-Lantern makes for a fun Halloween decoration in the window.
Updated September 2021
Once October starts, we can't stop ourselves from making Halloween crafts! The possibilities are endless!
For this craft, we are combining two of our favorite things: Halloween and melted bead suncatchers!
Yes, another melted bead suncatcher! But doesn't the Jack-O'-Lantern idea work well in the embroidery hoop frame? And it really looks lovely with the sun shining through it!!
When you're ready to start your Halloween crafting and decorating, give this a try! All you need is a wooden embroidery hoop and some fall-colored translucent pony beads.
Melted Bead Halloween Suncatcher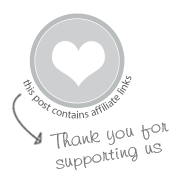 MATERIALS
INSTRUCTIONS
Prep your materials

Place your wood embroidery hoop on a foil-lined baking sheet.

We used a 9″ embroidery hoop for this one, but you could use any size and the smaller ones would definitely be quicker to make. We think a few Jack-O-Lantern suncatchers in various sizes would make a super cool Halloween window!



Create your Jack-O'-Lantern pattern

For the Jack-O'-Lantern, you can use blacks (and grays) for the eyes, nose, and mouth and an assortment of oranges and yellows for the pumpkin.  Be sure to fill all the spaces (otherwise it might pull away from the frame).



Melt the beads

Important Note! The melting plastic is not good to breathe, so this step is best done outside.

This should take about 10 minutes, depending on how hot your grill is.



Let cool

Once the suncatcher is cool, peel off the foil.



Hang up your suncatcher!

We looped a string of black pony beads at the top of the suncatcher and hung it in the window.


Isn't this suncatcher the perfect Halloween decoration?
More Halloween Crafts & Art Activities for Kids
Autumn Arts & Crafts Ideas & Supplies
Download our FREE printable idea list of 31 Halloween activities for kids & families! Or just check out the blog post with the links. So many fun ideas for Halloween!
And be sure to check out our FALL family fun list in our Amazon store! It includes supplies for fall arts & crafts, autumn toys, Halloween ideas, and picture books about autumn.
PLUS: We're offering 50% OFF and MORE on our Kids Art Spot Halloween workshops, Fall workshops and bundles. (Sale ends October 31, 2021 at 11:59 pm EST)
Pin It For Later