Learn how to create modern DIY Valentines Day shirts.

We made some heart printed T-shirts this past week that are pretty darn awesome, if I say so myself.
They are modern and edgy, rather than girly and frilly. (Not that there's anything wrong with some good girly-ness sometimes!) And they were so fun to make!
The kids all had a blast and worked on their shirts longer than they often spend on an art activity when play is also an option. Anywho, here's how we made these shirts…

DIY Valentines Day Shirts
This idea was inspired by the kid-printed number shirts on I Am Momma – Hear Me Roar (which would be awesome for kids' birthdays).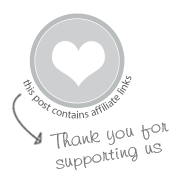 MATERIALS
Plain T-shirts, short or long sleeve
Freezer paper (you can find this next to the wax paper in the grocery store)
Fabric paint (we used Jacquard Textile Paint as well as BioColor paint mixed with BioColor fabric medium)
Paper plates (or other shallow dish for holding paint)
Everyday objects for printing, such as straws, marker tops, Q-tips, legos, garlic press, potato masher, playdough tools, cookie cutters, toilet paper rolls, fork, toys, screws, etc.
INSTRUCTIONS
1. Create a heart template from freezer paper
Cut off a piece of freezer paper that will fit across the front of your T-shirt. Fold it in half. Draw half a heart, then cut along the lines (or slightly inside if you think you made yours too big as I did).
Open up your paper and center it over the front of the shirt, waxy side down. Now cut a piece of freezer paper to fit inside the T-shirt (to protect the back of the shirt from paint seepage) and slip it inside, waxy side toward the front of the shirt.
2. Iron
Once both sheets of freezer paper are in place, gently iron them on high for a few seconds (no steam) so that the waxy side sticks to the shirt fabric.
3. Prepare for printing.
Set your T-shirt with its heart template on a protected work surface. Squeeze small puddles of fabric paint onto your paper plate and assemble your everyday objects that you think would make interesting prints.
You can also make heart stamps with toilet paper rolls as we did using Danya Banya's tutorial.
4. Fill the inside of your heart template with prints.
Dip an object, such as the tip of a straw, in fabric paint. Then, press to the fabric, and lift it to reveal the print. Or use a paint brush to paint the object with fabric paint first.
Continue until you have filled the heart.
Or, if, as with Daphne and Emily, the kids don't want to print to the edge of the hearts, they can trace along the edges of the heart with a fabric crayon, fabric marker, textile paint stick (pictured here), or just with a paintbrush and some fabric paint. A little definition to the edge of the heart is a good thing…
And if you're super gung ho about your t-shirt printing project, you may want to keep printing after you've finished with your heart.
Or you may want to paint some designs in your heart in addition to all that printing…
5. Let dry overnight.
If you haven't already lifted off the freezer paper yet (it's okay to give in and do it earlier if you're careful), you can do so now.
6. Set the paint
Follow the instructions on your particular fabric paint. I ironed each of ours for 30-60 seconds.
7. Admire and wear!
MORE DIY VALENTINES DAY SHIRTS
Want more ideas? Click here for 30 Valentine Crafts and Activities for Kids (with a FREE printable list!).
Pin It For Later