This beautiful flower suncatcher is also a flower mandala kids can easily make!
When we get on a roll, we go with it. That's been the case lately with all of our flower petal and contact paper suncatchers. We've made nature suncatchers in the past, but have never quite gotten into it as much as this past month with the flower petal art box, the flower stained glass door, and subsequent flower mandalas.
And we're still going strong!
We're loving all these flower suncatcher crafts!
Here's a video showing Flower Petal Suncatchers in action! And don't forget to scroll down for step-by-step instructions.
Flower Suncatcher Mandalas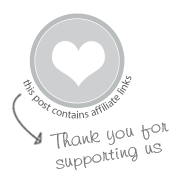 MATERIALS
Paper plates (the thin cheap kind)
Scissors
Flowers and leaves
Markers
Hole punch
Yarn
INSTRUCTIONS
Step 1: Create flower suncatcher frame
Begin by making a frame for your flower suncatcher by cutting a hole in the paper plate.
Step 2: Add a center of transparent contact paper
This time I cut some frames out of paper plates (the centers will be used for spin art) and then cut circles from contact paper to fit over the opening (overlapping the paper plate by about half an inch).
Step 3: Press flower petals and leaves to the sticky contact paper.
Maia and I arranged flower petals, petal pieces, and leaves in outwardly concentric designs on the contact paper to create our mandalas.
(Daphne worked on one, too, but mostly just explored the sticky nature of the contact paper and eventually crumpled the whole thing up.)
Step 4: Protect and hold the flower design in place.
We added another circle of contact paper over the top to protect and hold the flower design in place.
Step 5: Hang the flower mandala suncatcher.
Punch a hole at the top of the frame and tie a loop of string for hanging.
We hung Maia's (for me) in the living room window and mine (for Maia) in her bedroom window.
More About Mandalas
I love how well these circular frames hold the mandalas, perfectly, in the center! And I also love some of the meaning that has historically been connected with mandalas.
Here's a description (found on The Mandala Project's website) that I especially like:
The word "mandala" is from the classical Indian language of Sanskrit. Loosely translated to mean "circle," a mandala is far more than a simple shape. It represents wholeness and can be seen as a model for the organizational structure of life itself–a cosmic diagram that reminds us of our relation to the infinite, the world that extends both beyond and within our bodies and minds.
There are so many examples of mandalas found in nature: daisies, oranges, onions, the iris of the eye, starfish, and snowflakes just to name a few.
Not to get to woo-woo on you or anything, but I'd love to learn more about mandalas. More about them as an art form. About the meanings associated with them. And about how they've been used in cultures around the world.
Have you ever made a mandala, either yourself or with your kids?
Pin It for Later