These 5 Easter craft ideas for kids are easy and beautiful! They include Easter arts and crafts activities like drawing activities, suncatchers, painting wooden eggs, and printmaking.
We've been doing lots of Easter arts and crafts activities these past couple of weeks!
Besides suncatchers, here are two more Easter art activities that we've been working on this week ::
styrofoam printed Easter eggs
& painted wooden eggs
With all this Easter art-making, I thought it was about time I created a round-up of our favorite Easter craft ideas for kids. So here goes…
5 Easter Craft Ideas for Kids
Here are 5 fun Easter craft ideas for kids from The Artful Parent.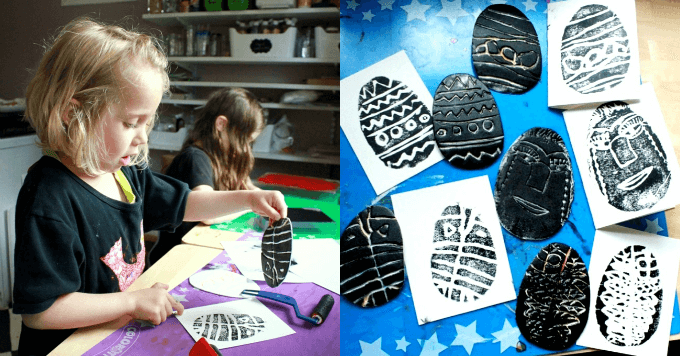 1. Styrofoam Printmaking
Make a styrofoam printed Easter card as my kids did. This simple printmaking technique looks especially striking when you cut the styrofoam into shapes first, such as these Easter eggs.

2. Easter Egg Drawings
These back-and-forth Easter egg drawings are simple, fun, and interactive. A great, low-key way to connect through creativity with kids!

3. Easter Egg Suncatchers
Here are three beautiful ways to make Easter egg suncatchers!
4. Double Doodle Art
Use double doodle to draw Easter bunnies, Easter eggs, and anything else you'd like. (Make sure to watch the video of double-doodle art in action!)
Tip: It works best with symmetrical images.
5. Painted Wooden Easter Eggs
These painted wooden eggs will long outlast the hard-boiled kind and are so much nicer than plastic eggs. They can be brought out Easter after Easter, given as gifts, and join the play kitchen for some pretend play.
MORE EASTER ARTS & CRAFTS IDEAS AND ACTIVITIES
Pin It For Later