Try painting eggs for Easter using hole reinforcement stickers. Remove the stickers after dyeing for a sticker-resist effect.
Updated March 2023
We love to use our favorite hole reinforcement stickers for some fun Easter egg decorating and dyeing.
This is a simple, toddler-friendly project and equally as rewarding for grown-ups.
We also love using star and dot stickers to decorate Easter eggs, as well!
Painting Eggs for Easter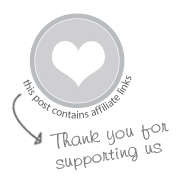 MATERIALS
INSTRUCTIONS
Add stickers to eggs

First, decorate the hard-boiled eggs with the hole stickers.



Dye eggs

Once you are finished with the sticker designs, simply dunk the eggs in dye to color them.
We've used hot water with food coloring and white vinegar (1 tablespoon per 3/4 cup of water) but commercial egg dyeing kits would work just as well.



Remove stickers

Once the Easter eggs are dry, peel off the stickers to reveal the design beneath.


This is an easy and fun Easter egg decorating project, one that little kids could do easily, and that older kids and grown-ups would enjoy as well.
More Egg Decorating Ideas for Kids
Pin it For Later