It's always good to have some easy kids' art projects up your sleeve, like this simple hole challenge art activity with stickers. Easy, fun, and low mess!
Updated January 2023
Sometimes you just need an easy art project for your kids! We've had great success with sticker activities for toddlers and we've also loved the Hole in Paper drawing challenge for years. So why not combine them?!
This is definitely one of those to be filed under easy kids' art projects!
This is a super easy art invitation with the added bonus of being quiet, low mess, and, of course, creative.
Easy Kids' Art Projects: Hole Challenge Art with Stickers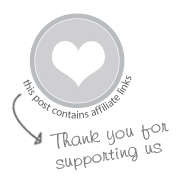 MATERIALS
Scissors
Stickers – some favorites we recommend are:
INSTRUCTIONS
Create your hole challenge

Cut a hole in your paper. It can be any size and shape. Then set out the paper with a couple sheets of stickers as an art invitation for your kids.

We love the contrast of a black sheet of paper with white hole reinforcement stickers, but you can use anything you have on hand!

Let your kids create!

We love that art invitations like this are so open-ended, you never know what your child will create!



And we guarantee they will want to create again and again, so it's always a good idea to have a few hole challenge papers waiting in reserve!
Are you ready to go out and buy some dot and hole stickers? (Or perhaps you have some already?) This version of hole challenge art is really a super easy kids' art project!
More Easy Kids' Art Projects
Pin It for Later