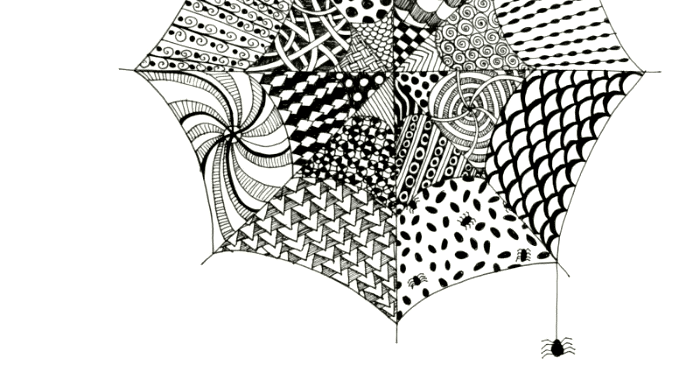 Written by Jeanette Nyberg
Tangle doodling like Zentangle® is perfect any time of year, but throw in the wonderful symbols of Halloween-time and you have the perfect starting point for an easy Zentangle for kids.
I've found that kids tend to have shorter attention spans than adults.
Have you noticed this at all? No? Okay, maybe it's just me.
In any event, I came up with a tangle project that's easy to start, and doesn't take all day to complete, but still gives the awesome relaxation and focus benefits that make everyone love this technique.
Spiderwebs :: Easy Zentangle for Kids and Adults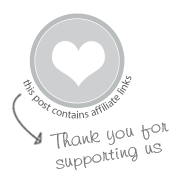 MATERIALS
Paper
Compass or 3 sizes of round things to trace around
Ruler
Pencil
Eraser
INSTRUCTIONS
Start with drawing your web. I used a compass and drew a large circle (lightly), then two smaller circles to make a bullseye.
Use your ruler and pencil to (lightly) draw four lines that cross in the center, in a cross shape and then in an X shape.
Use your pencil to draw lines that curve in and go from line to line, following where you drew your circles, but the lines will curve in toward the center instead of out. (See the photo diagram below).
Draw over your pencil lines with your black marker (but not your circle lines!), erase all pencil lines, and fill your shapes with tangles.
Tangles can be any sort of doodle lines and shapes. There are a ton of Zentangle techniques out there, but I usually make up my own, based on what I like.
Keep it simple for the first time around.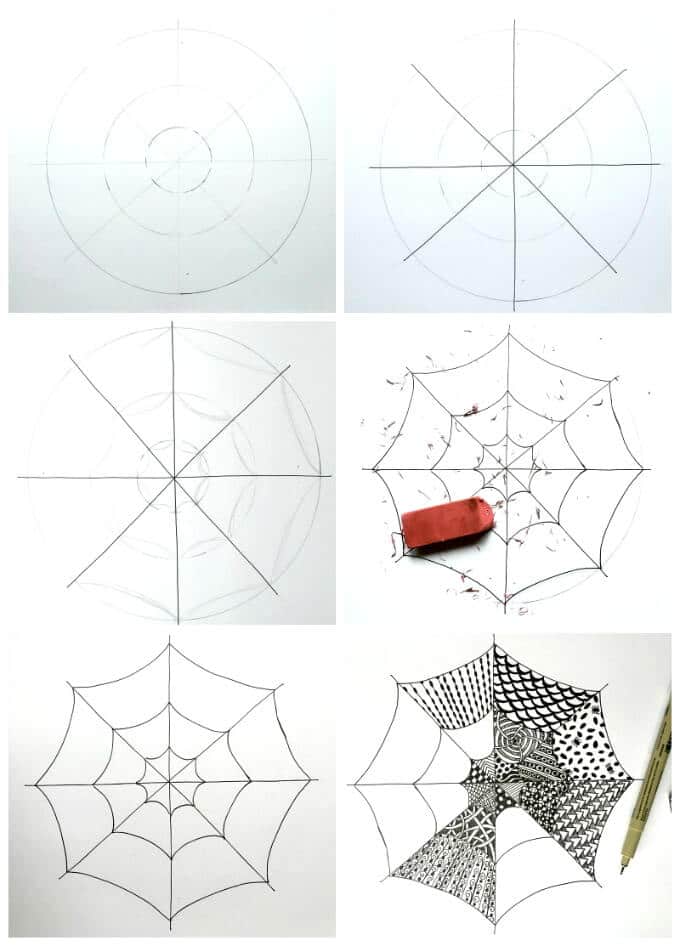 ZENTANGLE TIPS & IDEAS
1. You can do a search online for 'Zentangle patterns' or 'tangle patterns', or you can come up with your own ideas. Have fun and play with how different patterns look together. You can make up your own pattern page(s) to refer back to later when you want to do more tangling.
Note :: I put together a group of easy tangle patterns and tangle starter sheets here.
2. Think about if you want bigger or smaller spaces in which to tangle, and space your lines accordingly.
3. Want to take this  step further? Add some color! Orange! Purple! Grey! Boo! Sorry, didn't mean to startle you.
4. Try this with white gel pens on black paper.
Here are two more easy Zentangle projects for kids (and adults) to play around with after tackling the spiderweb.
About the Author
Jeanette Nyberg writes about art projects, cool finds, and tales of her life on her blog Craftwhack and is the author of the forthcoming book, Tangle Art and Drawing Games for Kids (available for pre-order on Amazon).
Jeanette has always been fascinated by kids' natural creativity and thinks adults should strive to be much more like kids. She graduated from the Rhode Island School of Design, after which she dove into the roles of professional artist and photo stylist.
Pin It for Later