How to make paper plate masks for kids' costumes. Great for Halloween, a costume making party, or pretend play!
Updated September 2023
Looking for an easy Halloween costume for your kids? Or maybe they just want to create a costume for pretend play.
These masks are so easy to make and can be customized to be whatever animal or creature each child wants!
Here's a video showing Paper Plate Masks in action! And don't forget to scroll down to get the step-by-step instructions.
How to Make Paper Plate Masks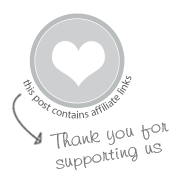 MATERIALS
INSTRUCTIONS
Draw eye and nose holes

Start by estimating your eye holes and nose areas and drawing them on the paper plate.

We chose to remove the bottom halves of the paper plates to leave noses and mouths freer, but you can keep the paper plate a whole circle if you prefer.

Note: If you have more than one child making paper plate masks, it might be easier to get the eyes and nose correct on one plate, then trace them onto a second paper plate.



Here are some possible shapes for your paper plate masks.



Add additional features

If your costume requires ears, you can cut them out of a paper plate and attach them with staples or a glue gun. Same goes for a beak.



Paint and decorate your mask!

You can use any paint, but we used tempera paint sticks because they are mess free and fast drying.



After you paint the mask, embellish the mask with feathers, pompoms, sequins, glitter, yarn, pipe cleaners, paper, cotton balls, etc.

Tacky glue works well for this (sticky and relatively fast drying) as does a glue gun.





Fit Mask and Add Elastic String

Once the mask is finished, tie the elastic string through one hole, fit the mask to the head, and tie it off on the other, trimming off the excess.



If you want to try your hand at making a mask, here is the free printable for How to Make Paper Plate Masks that I promised you. Click the link or image to download the PDF or print.
These paper plate masks are so easy, your kids will be making them all year long!
More Costume Ideas for Kids
Pin It for Later