How to make a Lite Brite pumpkin! Create a fun effect for your Jack-O'-Lantern with colored translucent beads with this simple DIY pumpkin decorating idea for Halloween.
Updated September 2021
Want to decorate a pumpkin with a Lite Brite effect?
We don't know about you, but we loved Lite Brite when we were kids. And while we've seen commercial "Fright Lights" pumpkin decorating kits for sale at stores, we think this DIY version is even more fun! All you need are some translucent colored plastic beads, a screwdriver, and your pumpkin.
Can you picture it? A gorgeous Lite Brite-like Jack-O'-Lantern glowing in the dark! So fun and perfect for Halloween!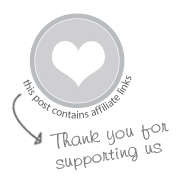 A DIY Lite Brite Pumpkin
MATERIALS
Pumpkin (white or orange)*
Screwdriver for punching holes
Hammer (optional)
Candle
*For this project, we used a white pumpkin because we thought the bright colors would show up best against it, and it's true that they do during the day. But at night when the pumpkin is lit, it doesn't seem to make any difference. So, feel free to go with what you have.
INSTRUCTIONS
Prep your pumpkin

Cut off the top of your pumpkin and hollow it out. If you can make the walls thinner, go for it.



Add holes for the face

Hold your pumpkin on it's side and use the screwdriver to poke holes in where you want the Jack-o'-lantern face to be.



If need be, use a hammer to hit the screwdriver into the pumpkin.

You don't have to make a face on your Jack-O'-Lantern, instead you can make any sort of Lite Brite effect picture on yours…

Once you're satisfied with the overall design, wipe the pumpkin juice off the pumpkin.



Add the beads

Poke your beads into the holes.



You may need to use the hammer or the back end of the screwdriver to help push the beads into holes that are slightly smaller than they are.



Light your Jack-o'-lantern up!

Finally, light a candle inside your new Jack-o'-lantern and stand back to admire the Lite Brite effect.

Oh, the candle went out. Oops! The beads fill up all the hole openings, so there is no air for the fire.

Cut a smallish hole at the base of the back of the pumpkin to let air in.


Light the candle again. And admire your new Lite Brite like pumpkin!
Did you grow up playing with Lite Brite? Do you think you'll try this fun DIY version for Halloween?
More Pumpkin Decorating Ideas for Kids
Autumn Arts & Crafts Ideas & Supplies
Download our FREE printable idea list of 31 Halloween activities for kids & families! Or just check out the blog post with the links. So many fun ideas for Halloween!
And be sure to check out our FALL family fun list in our Amazon store! It includes supplies for fall arts & crafts, autumn toys, Halloween ideas, and picture books about autumn.
PLUS: We're offering 50% OFF and MORE on our Kids Art Spot Halloween workshops, Fall workshops and bundles. (Sale ends October 31, 2021 at 11:59 pm EST)
Pin It for Later