Watercolor art ideas for kids using simple art supplies you already have at home. Plus, download the free 5-page printable guide!
Updated April 2023
There is so much you can do with a simple watercolor paint box! From watercolor resist art and paper plate flowers to butterfly symmetry prints and starry night sky art, just about any watercolor technique or activity can be done with the simplest of watercolor paint sets.
I'm partnering with Faber-Castell USA today to bring your family easy and fun watercolor activities that you can do with the art supplies you probably already have at home.
So grab some watercolors and let's make some art!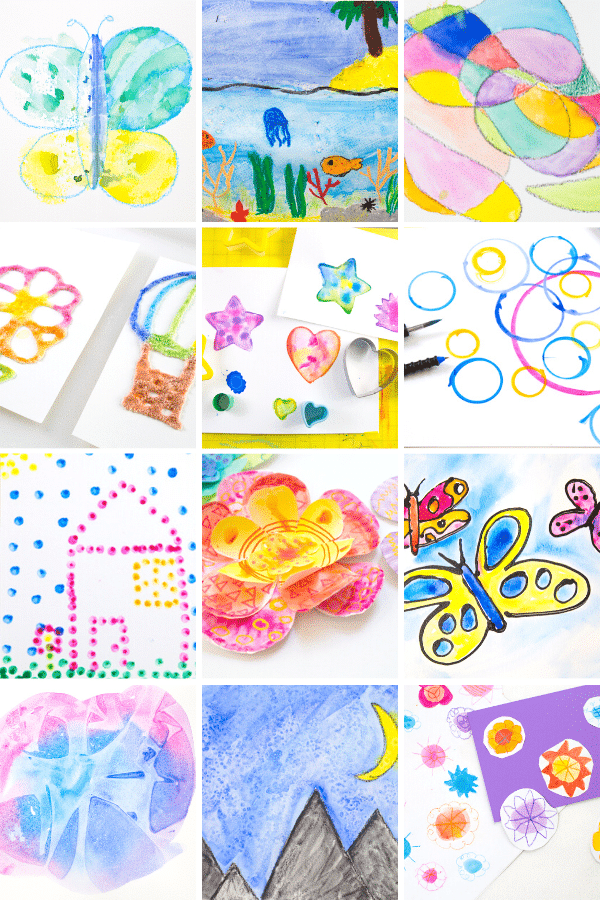 I'm going to start by sharing the materials you'll need to get started (not many!) and a video overview of the ideas. I'll also outline the activities with brief instructions and share a free printable that you can download and print out.
MATERIALS
A watercolor paint set*
Paint brushes and a cup of water
Drawing tools such as crayons, oil pastels, pens, or pencils (depending on the activity)
You may want something to protect your work surface
*We use and show a couple of our favorite Faber-Castell watercolor paint sets in this post, the Connector Paint Box Watercolor Set and this Watercolor Paint Set with Brush
**You can use any sturdy paper such as watercolor paper, card stock, poster board, or uncoated paper plates.
Watch the video above to see these 12 watercolor art projects in action or head straight to the photos and instructions below.
12 Watercolor Art Ideas
Create pointillism-inspired dot art with cotton swabs and watercolor paint. Before you begin, add an extra droplet or two of water to each paint disk. Dip a cotton swab into the paint, then press it to the paper to make a watercolor dot. Repeat with more dots. And continue until you have a picture created entirely of dots!
You can create images (such as flowers, butterflies, cars, or faces), to make abstract art, or to make a dot-to-dot picture for a friend or sibling to complete.
Use a crayon or oil pastel to draw big looping scribbles all over your paper. Fill in some sections with color from crayons or oil pastels and then paint the rest with watercolors.
We love to do this while listening to audio books!
Use watercolor dots as the starting point for playful doodled flowers. This idea was inspired by the watercolor flower doodles on Art is Basic.
Start by painting a variety of small watercolor dots, splotches and brush prints all over your paper in different colors.
After the paint dries, use crayons or colored pencils to turn the colorful dots into flowers by drawing petals, center designs, or interesting patterns.
Add additional details with watercolors as well. You can even try this on a piece of sticker paper or large address labels to make your own stickers (simply cut out around each flower and peel off the backing paper).
Sprinkle a little salt over a still-wet watercolor painting for a beautiful starry night sky or mottled effect. The salt absorbs the water in the watercolor paint, leaving white spots in some areas and concentrated pigment in others. Again, magical!
This salt + watercolor technique is a fun and satisfying process art activity for little kids. But older kids and adults can use it also to great effect, creating a night sky scene, an underwater scene, or to create interesting textures.
Use crayons or oil pastels to draw a picture (abstract or realistic – anything goes!), then paint over the drawing with watercolor paints.
The waxy crayons or oil pastels will resist the water-based watercolors, creating a simple but almost magical effect.
This awesome art activity is just as wonderful for a toddler's first scribble artwork as it is for the school-aged child creating an elaborate underwater scene or making and decorating paper twirlers.
Create beautiful, symmetrical butterfly wings with translucent watercolor paint.
First, fold a piece of paper in half, open back up, and draw the body of a butterfly along the fold with a crayon or oil pastel. Add wings on either side. Now use a lot of wet watercolor paint to paint one side of the butterfly. Press the other side of the paper to the wet paint, and open to reveal your symmetrical butterfly print!
You can also fold a piece of paper, cut out half butterfly with the body along the fold line, open to reveal a symmetrical paper butterfly, then proceed by painting one side. (Using watercolors is much less messy than doing this symmetry painting technique with tempera paint!)
Uncoated paper plates are great for painting with watercolors as they are basically sturdy card stock. You can turn them into flowers, baskets, bowls, hats, or even paper spirals that twirl in the wind.
To make these paper plate flowers, inspired by Pink Stripey Socks, cut a few flower shapes from paper plates in decreasing sizes and staple or glue them together in the center. Paint your flowers with watercolor paint. You can also embellish them with additional doodles and drawings with markers or chalk markers after they dry.
8. Wet-on-Wet Watercolor Shapes
Experiment with the wet-on-wet watercolor technique by using cookie cutters!
Start by setting a cookie cutter on top of your paper. Paint the area inside the cookie cutter with just water. Then dip the paintbrush into watercolor paint and add color to the wet paper inside the cookie cutter.
Watch as the color spreads around the water. Dip your paint brush into a different color and repeat. Leave the cookie cutter in place and let your painted shape dry.
Try with another shape and other colors! Afterward, cut the shapes out and paste on colored cardstock to make your own cards (as Daphne did for teacher appreciation cards last week).
Cover a wet watercolor painting with gently scrunched up cling wrap and let dry overnight for an amazing geometric effect.
This works best if you make a very wet watercolor painting first, so use lots of water (and color!) Then add a sheet of cling wrap on top, scrunched up as much or as little as you like, and set aside to dry.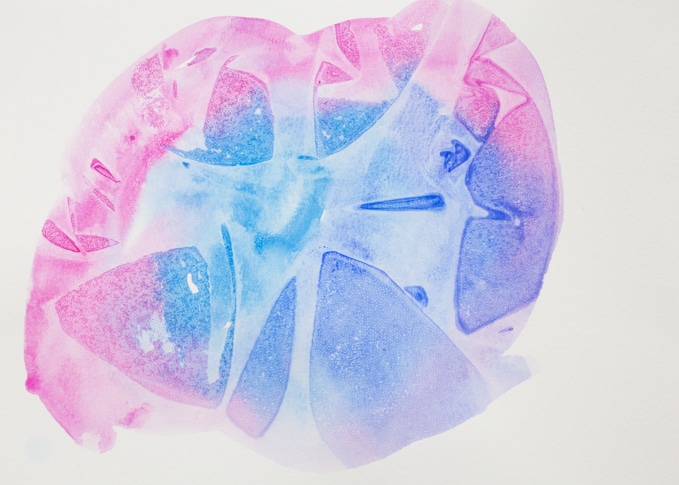 The cling wrap forces the watercolor paint to concentrate where the plastic touches the paper creating intricate geometric designs. Experiment with different kinds of plastic wrap, different scrunch patterns, different colors, and more. You can even try bubble wrap to see what happens.
For raised salt painting, a favorite kids' art activity, draw a picture or make a squiggle design with a bottle of glue. Then cover the glue lines completely with salt and tap off the extra salt.
Saturate your paint brush with watercolor paint and lightly touch to the salt-covered glue lines. Watch as the color magically travels along the salt + glue! Continue until your lines are filled with color. Let dry completely, then hang and admire.
Create a stained glass art effect with a black glue "lead" design filled in with colorful translucent watercolors.
Mix a tablespoon or so of black* tempera or acrylic paint into a half-empty bottle of glue, replace the cap, and shake well. Squeeze out the black glue to draw a picture on your paper. Once it's completely dry, paint in the sections with watercolor paint.
*If you don't have black, try this with another dark color such as blue or purple.
12. Compass Painting with Watercolors
Use a compass to paint watercolor circles of different sizes in this art activity inspired by Housing a Forest!
Replace the pencil in a traditional compass with a small paintbrush (we broke our paint brush in half to make it easier to use). Then dip the brush end in paint to make lots of circles all over your paper.
If you don't have a compass on hand, try rigging up something similar by attaching a brush to one side of small tongs or using one of these DIY compass ideas. Or simply trace the circumference of a variety of cups and bowls for your watercolor circle art.
So there you have it! A dozen awesome watercolor art activities for kids of all ages! Try one or do them all!
I even created a printable guide so you can keep these ideas handy on your fridge or keep in your art space.
Watercolor Art Ideas Printable Guide
Want an easy-to-reference printable version of these watercolor art ideas? Enter your email to have one sent directly to you for free! (If you missed yours, clear cookies and reload this page.)
Thanks again to Faber-Castell for sponsoring this post to help bring all these fun art activities to you and your family! "Faber-Castell's Premium Children's Art Products are recommended by art educators for their quality, innovation, safety, and respect for the environment."
Pin It For Later