Learn how to make easy lace heart ornaments and magnets. Easy to make with air dry clay, doilies and beads.
Okay, so we're getting a bit obsessed here with our lace hearts.
Making lace prints in dough is awesome! The process is very, very satisfying (for kids and adults alike) and it creates such a lovely relief of the lace. We've been doing this with playdough and air dry clay and I also want to try it in cookie dough, salt dough, real potter's clay. Anything else?
Earlier this week, I posted about our playdough lace prints (and what the kids did with this pretty, textured dough). Today, I'm going to share the homemade heart ornaments and magnets that we made with the more permanent air dry clay.

How to Make Lace Hearts in Clay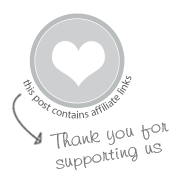 MATERIALS
*We used crochet doilies picked up at a yard sale, but you can also find them available for purchase at craft stores, fabric stores, and online. Also, give any thicker lace a try, including lace ribbon. Just don't use paper doilies.
INSTRUCTIONS
Place clay on parchment paper. Add doily & roll.

Pull off a piece of air dry clay and set on a sheet of parchment paper.** Lay your lace doily over the clay and use a rolling pin to press the doily design into the clay.

**Use parchment paper to cover your work surface rather than the plastic mats shown in some of these photos. We quickly learned that the clay lifts up easily from parchment paper but not from the plastic mats.



Reveal the lace print

Carefully lift the doily off the clay to see the pattern beneath.



Look at that detail!



Make a heart

Use a cookie cutter to cut a heart from the clay.



Make a hole to hang the heart

Use a straw to punch a hole at the top for hanging.

Add beads (Option 1)

If you like, you can embellish your lace heart by pressing small beads into the design. Daphne really got into this.

If you add beads, make sure to press them in well. A couple of her beads fell off after the heart dried and I had to glue them back in place.



Here's another one she made.



I pressed a few beads into the ones I made as well.



Paint your hearts (Option 2)

If you like, you can even paint the hearts once they are dried (especially if you didn't add beads).

The paints we used are Colorations Activity Paint and BioColors, in metallic colors, and both available through Discount School Supply. Tempera or acrylics would work okay as well.



Let clay hearts dry, then add ribbon

Allow the clay hearts dry (ours took a couple days) then thread string or a narrow ribbon through the hole and hang.


I really like how these ornaments look against my teal door!
We sent our lace heart ornaments as Valentine's Day gifts to the grandmas and cousins. And also included some magnets we made using the same technique.
Here's a video showing how to make Easy and Fun Clay Heart Ornaments with beads. And don't forget to keep scrolling to see how to turn these hearts into magnets.
And here's the (simple) magnet variation…
How to Make Lace Heart Magnets
MATERIALS
INSTRUCTIONS
Make lace hearts
Follow the instructions for the lace hearts through cutting out the hearts, but use a smaller heart cookie cutter for the magnets.
Let dry
This takes about a day for these smaller clay hearts.
Paint if desired
Again we used Colorations Activity Paint and BioColors, but tempera or acrylics would work okay too. Let the paint dry.
Add magnets
Use a hot glue gun to glue the small magnet disks to the backs of the clay hearts.
Use your new lace heart magnets to hang artwork on the fridge! And to give as gifts…
Want more ideas? Click here for 30 Valentine Crafts and Activities for Kids (with a FREE printable list!).
Pin It For Later