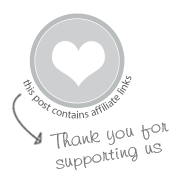 Maia and I made some melted crayon art yesterday, following the stained glass melts project from MaryAnn Kohl's Preschool Art book.
I swear we'd be set for life with just the projects in her books. There are so many good ones!
These stained glass melts were fun to make and the result is beautiful! I love how the light shines through, especially with the lighter colors.
How to Make Easy Melted Crayon Art with Kids
Step 1: Draw a picture with pen(optional)
First Maia drew a picture on paper with a black pen.
Step 2: Warm up cookie sheet
Then I placed the drawing on a cookie sheet in a warm oven (250 degrees F.). The book says to use a warming tray, but we don't have one, and we had used the cookie sheet method with success before.
UPDATE: We've since had great success with melted crayon art on a warming tray. It rocks!
Step 3: Draw with Crayon on Heated Cookie Sheet
Maia carefully colored in her drawing with crayons while the paper and cookie sheet were hot. The crayon melts beautifully!
Step 4: Paint with Black Watercolors
After filling in the drawing with melted crayon, Maia did a black watercolor wash over the drawing.
This isn't part of the project in MaryAnn's book, but seemed like a good way to make the stained glass pop out even more. We used lightweight paper rather than watercolor paper, since we weren't planning on using watercolors. But also I think the stained glass effect is more effective with lighter weight paper.
Note: We also did this project with other watercolor colors for melted crayon heart paintings. They turned out beautifully!
Step 5: Hang in Window!
We hung our melted crayon art in the window and I love how they turned out!
(Note: The butterfly above was a joint effort between Maia and me. She asked me to draw the butterfly outline and also wanted me to work with her on the color so I added some of the yellow. As a rule, I don't draw on Maia's art, or draw something for her, but she said she wanted to make a butterfly together and I was up for trying a collaboration.)
This picture (since I'm sure you're wondering) is of a mama hen with billions of eggs inside her.
8 More Melted Crayon Arts & Crafts for Kids
Pin It for Later