Have you tried yarn paintings yet? The combination of yarn, glue, and paint makes it an especially fun and tactile art activity for kids. Plus the three-dimensional aspect makes it stand apart from most kids' painting projects.
I first wrote about yarn paintings a few years ago (this is mostly a repost) and they are well worth doing. The idea is from MaryAnn Kohl's book, Art with Anything: 52 Weeks of Fun Using Everyday Stuff.
Here's a video showing Yarn Art Painting in action! And don't forget to scroll down to get the step-by-step instructions.
Yarn Paintings with Kids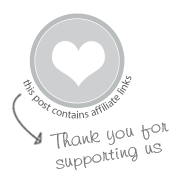 MATERIALS
Mat board (tagboard, card stock, poster board, or cardboard would work as well)
Yarn
Scissors
White glue
Tempera paint
HOW WE DID IT
First we cut our yarn into shorter pieces. Then we dipped the yarn pieces into a bowl of glue and arranged them on a piece of mat board.
We left them to dry overnight.
The glue-soaked yarn dried hard to create a really neat textural base for our painting. It was fun to paint over and between the yarn lines with our paint.
Maia tried painting with two paint brushes
at once to mix the colors.
And then she moved on to painting with her hands over and between the yarn lines. (And then taking her paint-covered hands over to the easel to make hand prints.)
We both loved this yarn project! I highly recommend it!
More yarn art ideas for kids
Pin It for Later