Cathy James, mother of two, and the blogger behind NurtureStore, is the author of a wonderful new e-book on gardening with kids called, The Garden Classroom: 52 Kids Gardening Activities. Here she shares some tips for getting kids excited about gardening.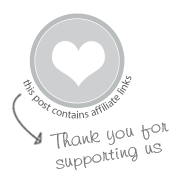 Update :: The Garden Classroom is now available as a traditionally-published book!
You can learn more about it here or buy it here.
JEAN: So, tell us, was your childhood gardening experience as magical, fun, and educational as you seem to want to make it for kids today? 
CATHY: I did spend a lot of time playing outdoors. My mum is a great gardener, so we had a pretty place to play at home, and also a bluebell wood nearby for bigger adventures – but I would have loved to have had more gardening fun and creative outdoor opportunities at my school.
JEAN: Will you tell us a bit about the School Gardening Club you are involved with now? How has your experience shaped how you think of kids and gardening?   
CATHY: I run the club with my friend Kate, and we take enthusiastic groups of eight- and nine-year-olds once a week, during recess after lunch, for hand-ons gardening and outdoor arts.
We were lucky to have the basics in place before we started – so we had two raised beds, picnic tables, and a small greenhouse – but the space was pretty much a blank canvass. The club has transformed this under-used area of the school into a thriving, vibrant garden. The children have grown all sorts of fruit, vegetables and plants over the course of the year and had a stall at the school fete that was brimming with produce.
The club has shown me how children can gain practical skills through gardening, and how a garden can build team work. We've seen the kids grow in confidence and really enjoy themselves.
JEAN: What do you feel are the benefits of getting kids involved in gardening at a young age? 
CATHY: Where to start?! I know from my own children, and the ones I worked with when I ran a home daycare, that simply being outside is good for children. Going out into the garden would transform moods when the kids were a little cranky or had lots of energy they needed to use.
Gardening is great sensory play for children, and the space gives them different options for active play or big art works, that you might not do so easily indoors. They get to have a real connection with nature and understand where their food comes from. I've found my girls are much more likely to try new foods and eat healthily when they've seen the plants growing. I think the garden is also a spiritual place and good for children's well-being.
JEAN: Do you have any favorite ways to get children excited about gardening rather than thinking of it as a chore? 
CATHY: Well, this question made me pause a little, because I don't think I've met a child who's viewed gardening as a chore. My whole philosophy is to help children learn in playful ways, and The Garden Classroom is full of ideas to make this happen in your own garden. A real favorite way is to create little worlds in the garden that children can use for imaginary play. In the book I show you how you can set up a dinosaur world, a fairy garden and a miniature garden. My girls really love to play this way.
JEAN: Sorry to make you pause there with the chore question! I guess most of my childhood memories of gardening involve weeding, watering, and picking bugs off the potatoes and squash. But I do love gardening now!
Anyway… You have so many wonderful garden-related activities packed into your book. I love how you added so much art… and snuck in plenty of learning as well. What are your favorite activities from the book? 
CATHY: Well Jean you don't need me to tell you how great it is to take art outside. All that space and light, and the abundance of natural inspiration. Plus you don't need to fret about making mess so much!
I think my personal favorites from the book are the handprint sunflowers. They make a wonderful collaborative project for a family or a class, and are so beautiful. I also really love the miniature meadow, because it's combines growing and play, and I love the fun aspect of making a meadow you can bring the house with you.
JEAN: Anything else you would like to add? 
CATHY: I would love to encourage your readers to come over to NurtureStore and take a look at the video which gives more of a peak inside the book. I hope they are inspired to try some of the ideas and to enjoy all the benefits a garden classroom can bring to their children. Thanks for the chat!
JEAN: Thanks you, Cathy! I love your ideas, and as I said before, I love your book.
While "classroom" is part of the title, The Garden Classroom book is perfect for families as well, in addition to schools and homeschools.
It is full of so many wonderful ideas for gardening with kids. There is everything from getting started with planting seeds to ways to incorporate science and math learning and plenty of garden arts and crafts. As a bonus it's beautifully put together, full of colorful photos, and easy to use. Well worth the price, in my opinion.
Pin It for Later ::