A round up of spring craft ideas for kids, including nature art activities and spring arts and crafts projects.
Updated March 2022
With the flowers blooming and the weather warming, Spring is our favorite season. And we aren't the only ones:
The calendar year might start January 1st, but to me the new year starts best in spring! Fresh shoots poking up out of the earth, new growth on old shrubs and trees, baby animals and birds, the return of warmth and longer days—what's not to love?!

Jean Van't Hul
If you're enjoying all the things that come with the new season, here are some of our favorite spring crafts for kids!
Spring Craft Ideas for Kids
4 Nature Activities
Try Flower Printing with Kids – we love this printmaking activity!
Make a Flower Suncatcher with just a paper plate, contact paper, and flowers!
Try a Flower Petal Stained Glass Door for a springy entry to your home.
Make DIY Flower Crowns and Necklaces!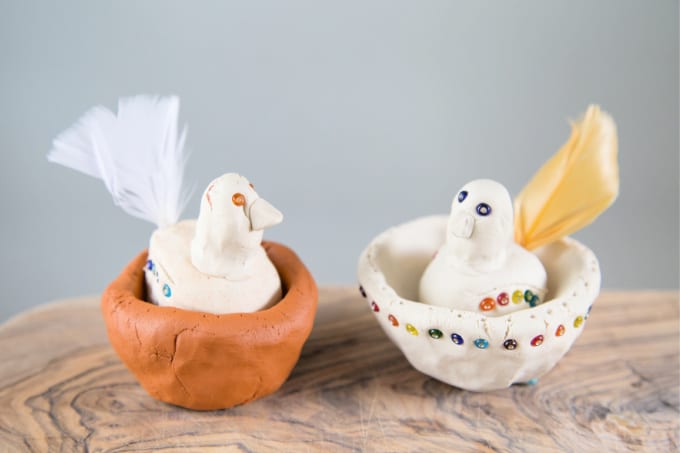 4 Spring Arts and Crafts Ideas
Create sweet birds and pinch pot nests. This is a perfect springtime clay activity!
Make Raised Salt Paintings in spring shapes – think flowers, rainbows, and birds!
Make Rainbow Plastic Bead Suncatchers – perfect for a springtime sunny window!
Paint Butterflies using one of our favorite techniques: smush painting!
4 Spring Snacks and Treats
Make Edible Spring Nests with pretzels, peanut butter playdough and marshmallows!
Make Homemade Peanut Butter Cups.
Try a Birds Nest Cake with Ice Cream Eggs.
Or this delicious Raspberry Lemon Cream Cheese Coffee Cake!
What are your favorite spring craft ideas for kids and families? Any here that you'd like to try out?
Want More Spring Art Ideas? Visit the Kids Art Spot where we have a Spring Arts and Crafts Bundle for Kids. This online collection for kids and families features 10 super fun springtime art activities, each with a step-by-step video tutorial and printable instructions, PLUS 10 spring-themed drawing prompts!
More Ideas for Spring Crafts
Pin It for Later